BBQ Spice: Bay Leaf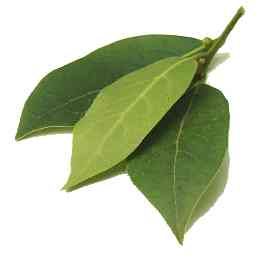 The humble Bay Leaf. The Bay Leaf is one of those spices that seem to have been forgotten. I can't remember the last time I read a new recipe that called for Bay Leaf. That's a shame, because the Bay Leaf adds a depth of flavor to soups, stews, and sauces that can't be found in any other seasoning. I always use it when making spaghetti sauce and stew.
Bay Leaves are the leaves of several species of Laurel trees. According to
Wikipedia
, "Bay Leaves are used in cooking for their distinctive flavor and fragrance, and may be used fresh or dried.
The leaf of the bay laurel or "true laurel", Laurus nobilis, is a culinary herb often used to flavor soups, stews, and braises and pâtés in Mediterranean Cuisine. Many people have reportedly smoked dried bay leaves to achieve euphoric effects similar to those of cannabis.
The leaf of the California bay tree (Umbellularia californica), also known as 'California laurel', 'Oregon myrtle', and 'pepperwood', is similar to the Mediterranean bay, but has a stronger flavor.
"Indian bay leaf" (also called tej pat, tejpat, or tejpata)
The leaf of the Cinnamomum tejpata (malabathrum) tree, similar in fragrance and taste to cinnamon bark, but milder. In appearance, it is similar to the other bay leaves, but is culinarily quite different, having an aroma and flavor more similar to that of Cassia. It is inaccurately called a bay leaf as it is in a different genus (though the same family) as the bay laurel.
Bay leaves have been said to be poisonous, but this has never been proven."

So why do I bring this up? As you know, for the Memorial Day cook, I cooked 17 pounds of pork butt. I've been using my own variation of Big Bob Gibson's Injection Baste when injecting the pork for a while now, but Sunday I was inspired; add some Bay Leaf. I added two Bay Leaves to the recipe and boiled it together for approximatelyly 2 minutes. I let it cool and then injected the meat.

Man, oh man, is this a keeper. I'm sorry there's no pictures. All 17 lbs of meat were eaten before I could get out the camera.