Chocolate Barbecue
Way back on April 28th, Phil - The Grand Poohbah of the
BBQ Brethren
and Sledneck of the South Shore Smokers and I got together and
cooked 350lbs of meat
for a
KCBS
judging class held by the
Grill Kings
.
When it came time to season the ribs, we were going to use an all purpose rub from
Southside Market
in Texas. Well, we didn't like it straight out of the bottle, so we decided to doctor it up. We were dumping all sorts of ingredients into it and had just about given the rub up as a lost cause when I came across a jar of chocolate sprinkles. We ground them up and added it to the rub. Hmm, not bad, said we. We kept doctoring the rub and added some
Nestle Quick chocolate mix
and some other secret ingredients to the rub. Even better! This recipe is a keeper.
So, there we were out on
Long Island
setting a new trend in barbeque and we didn't even know it.
Chocolate Barbecue
had arrived! Alright- I'll give you, it wasn't a new idea, but it was new to us. I know about Mole sauces - they were probably the inspiration for this rub.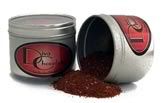 Now I see that
Diva Chocolates
out in
Clackamas, OR
has introduced a line of
five chocolate grilling rubs
and spice blends, which it claims is ideal for seasoning beef, poultry and pork.
All
Diva Chocolates
rubs use either roasted cocoa beans or unsweetened cocoa powders, which pair well with the smoky richness of grilled meats.
The
Diva Chocolates
line includes Mocha Java Steak
Rub
, Orange Chocolate Chicken
Rub
, Spicy Cocoa Rib
Rub
, Kickin' Chocolate Beef
Rub
and Cocoa Fennel Burger
Mix
.
I can't wait to try them out. But remember - we did it first!