Tuesday, August 02, 2011
Monday, August 01, 2011
Where's There Smoke - There's Flavor
posted by WhiteTrashBBQ @ 8:20 AM 3 comments


About Me
Name: WhiteTrashBBQ
Location: Brooklyn, New York, United States
Links I Frequent
The Kansas City Barbeque Society
The New England BBQ Society
The Mid Atlantic BBQ Association
The Hampton Smoker

Your guide to BBQ joints in Boston, New York and everywhere in between

The Pickled Pig Forums
BBQ-4-U Forums

National BBQ News Forums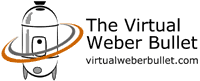 The Virtual Weber Bullet
HomeBBQ.com

Edible Brooklyn
BBQTV.com The source for BBQ competition coverage, cooking tips, sauces, rubs, grills, equipment and anything to do with barbecue.
The BBQ Guy's Blog

View my page on Hot Sauce Blog

The BBQ Report
Links To Explore
Mr. Bobo's Traveling BBQ All Stars
Spicewine Smokers, BBQ Sauce and Rubs
Woodman's Real Pit Barbeque Co.
Harleys, Cars, Girls & Guitars
Barbecue Restaurants That I Recommend
Who links to me?
BBQ
Food and Drink
Barbecue
Check out..





Food
Previous Posts
Archives