BBQ Judging
'Meat has its own mentality' at Placid barbecue fest
By ANDY BATES, For the Enterprise

Posted on: Saturday, June 30, 2007
What I really want to do is lick my fingers, but that's against the rules. As it turns out, there's quite a few rules in the world of barbeque judging, so I just pluck my sample of chicken, stare at the juice, sauce and spices on my fingers and wait for the next sample to come along.


This is just training.

The main event comes Sunday when the 36 teams competing in the second annual I Love Barbeque Festival in Lake Placid turn in their meat for judging.

In most cases, they'll have spent more than 24 hours preparing their fare, and when all is said and done, the judges will be walking away with more than 2 pounds of chicken, ribs, pork shoulder and beef brisket in their bellies.

It may sound like a dream to some — or unusual punishment to others.

But for five hours on Friday, me and about 35 other judges-to-be gathered at the village beach house to learn the nuances of judging top-notch barbeque.

And it isn't easy.

As our instructor Jerry Mullane says, "Meat has its own mentality."

I couldn't agree more.

Mullane and his wife Linda, from south New Jersey, have been instructing courses in barbeque judging for the Kansas City Barbeque Society, which sanctions the ILBBQF, since 1996.

He told the group there's obviously a few perks to the job. One, you get to eat, and not just when you're at the judges' table. When you wear your judge badge and walk around talking to teams, they're usually more than willing to give you test run at the goods.

The only catch? You can't fraternize with the teams on the day of the competition, you can't talk to the people at your table while sampling, and you can't lick your fingers.

But judging a barbeque competition is about more than gobbling up everything they put in front of you.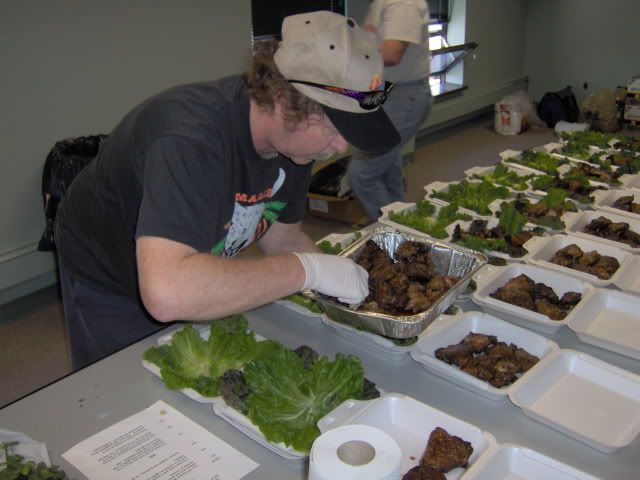 The way it works is you sit at a table with five other people, and you each get to judge six samples from six different teams for each category. The teams are numbered and then given another number by the KCBS so the judges have no way of knowing which team is which.

The grading scale goes from two to nine, with nine being excellent, two being unedible. Six is the starting point, and you add points for each category of taste, texture and appearance if you like the sample, or take points away if you don't.

"If it's a two," Mullane said, "you shouldn't have been able to swallow it."

The key is to judge each piece on its own merit, Mullane said. If everything that touches your mouth is fantastic, go ahead and give it a nine — don't feel like you need to use every number.

But, while you may think everything tastes great, you also have to know how the meat should be cooked. For example, the brisket should have some elasticity when you pull it apart. If it breaks apart or crumbles too easily, then you know it's been overcooked and should score its texture accordingly.

The pork shoulder you should be able to press between your tongue and the roof of your mouth and let the flavor pass down your palate. If it dissolves or turns into mush, the team has overcooked it.

If the whole length of rib meat pulls away from the bone, not just where you bite, then the ribs are overcooked.

Of course, every judge is different, Mullane said, and that's what makes the competition so unique.

"They have to please six palates at a time, and they never know which palates they're going to get," he said, adding that teams will smoke 72 thighs, or 30 pounds of ribs, just to find the six individual pieces that are just right.

Teams can only garnish their meat with green leaf lettuce, parley or cilantro, and under no circumstances can they pool sauce or glob it over the top.

"The whole point is you want to be able to taste the meat," he said.

By the time me and my classmates had pledged their oaths, that's exactly what we had done.

And it figures to be something we do a lot of this weekend.

Contact Andy Bates at 523-4401 or abates@lakeplacidnews.com
Labels: barbecue, barbeque, bbq, competition, judge, kcbs, nebs