BBQ Sweepstakes - Win A Pit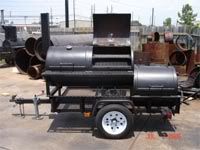 The folks over at
Texas Pepper Jelly and Texas BBQ Rub
are giving away a
Gator Pit Budget Mobile BBQ pit
, valued at $1950 included as part of $13,500 in prizes and gifts from
Texas BBQ Rub
,
Gator Pit
,
Texas Pepper Jelly
, and
Yellow Rose Jerky
is going to be given away starting right now.
So what's the catch? They want your email address and the ability to send you email promotions. You'll be entered in Texas Pepper Jelly's and Texas BBQ Rub's monthly newsletter which are always full of discounts, promotions, recipes, BBQ tips, etc. Along with the newsletters, you will still have a great chance at winning one of their prizes. Currently they have over $13,500 worth of prizes that will be given away to over 850 winners!
So don't hesitate any further, it sounds like a fair deal to me. Sign up with
Win A Pit 2006
right now! It's certainly worth a shot. Then again, don't. It'll increase my odds of winning.

And please welcome
Edible Brooklyn
to my blog roll.
Edible Brooklyn
is a new magazine, well new to me at least, that celebrates the Borough's food culture, season by season. I found it while dining in the ulta-chic new hipster neighborhood of
Red Hook, Brooklyn
. Be sure to check it out.