Coney Island Shortcakes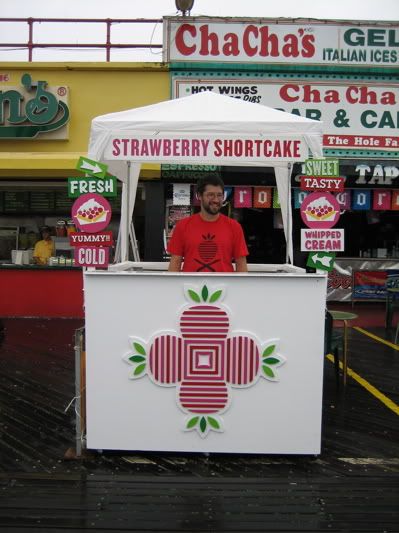 A second posting in one day is an extreme rarity at
WhiteTrash BBQ
. Mark your calendars cause it's happening today. This is a blog about Barbecue, but every once in a while I like to talk about something that's "happening" in
Brooklyn
.
This weekend, being the
Fourth of July
and all, some of you may be heading out to
Coney Island
to see a
Brooklyn Cyclones
game or to enjoy the rides, the surf and the
freaks
.
But there's a new attraction this year on that famed beach that you shouldn't miss -
Coney Island Shortcakes
I'm not sure who's running the shop at
Coney Island Shortcakes
, but let me tell you they gots some great eats! For a miserly $3.00 you get some home made
strawberry shortcake
that's "yummy," "sweet" and tasty" and topped with real whipped cream. They'll even handle special requests.
They're a highly recommended stop when you're on the boardwalk. They're located on the boardwalk, right in front of the
Nathan's Hot Dog Stand
and
Cha Cha's
. See you there!