BBQ Events: Gothamist-A Hamburger Today Burger Beach Party

Ok - I know it's not barbeque. Let's not split hairs, it's close and it's a New York City event that deals with live fire and food. It's a step in the right direction!
"SATURDAY JUNE 24th 6:00pm at
WATER TAXI BEACH
presented by
GOTHAMIST
&
A HAMBURGER TODAY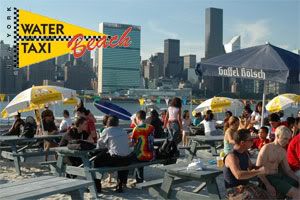 Admit it. There's nothing better than savoring the taste of a specially prepared, burger eaten outdoors while the sun begins to set and you wiggle your toes in the sand, enjoy spectacular views of the Manhattan skyline, sip on an ice cold beer and listen to the soothing sounds of summer. Cap it off with a special screening of the acclaimed documentary Hamburger America and you've got the Gothamist/ A Hamburger Today QBQ
BBQ Burger Bash at Water Taxi Beach
. That's "Quality Before Quantity"; - there's nothing fast about this food.
Special appearances by George Motz, James Beard nominee for his documentary
Hamburger America
, and Harry "Hey Chef" Hawk of
Schnack
and Water Taxi Beach make this QBQ BBQ the event that burger aficionados have waited a lifetime for.
SATURDAY, JUNE 24TH; 6:00PM-10:00PM

WATER TAXI BEACH
, Hunter's Point (Second St. & Borden Ave.), Long Island City
Special screening of
Hamburger America
at dusk; and it's world wide out door premier!
In an interpretative homage to some of America's most beloved patties, Harry's at Water Taxi Beach will chop fresh
100% certified Angus beef
at the Beach throughout the evening and serve up regional specialties including
The Guber Burger
(a Missouri specialty topped with hot, melted smooth peanut butter);
The Butter Burger
(a Wisconsin fave served with a large dollop of soft, pure butter);
The Green Chile Cheeseburger
(with hot green chiles, indigenous only to New Mexico); and
The Motz Burger
(named for acclaimed documentarian George Motz, it's the quintessential 1/4 lb. patty served on a white squishy bun with spectacular
"Schnack"
sauce.
Harry's will also have his regular menu available. It should be noted that having a ticket is substantially cheaper than buying the food a la cart and that those without tickets may not be able to try every burger. And please note that the event is Quality Before Quantity for a reason. Harry and crew have pointed out that, while you should come hungry, just be aware that they're going to take their time to cook the burgers properly -- not just zing them out half-ass. So you might have to wait as they griddle them up hot and fresh for you."
I'm supposed to be out on
Long Island
for the Annual
BBQ-Brethren
Bash, but I'm going to try and make this too. If I don't, I want to hear from you readers who do.