Crossing over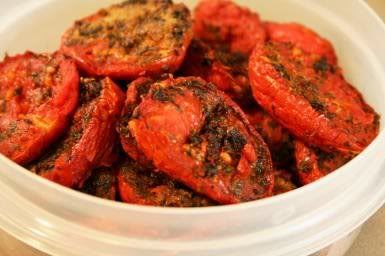 Ladies and Gentlemen, that picture to the left is a fruit. Many people consider it a vegetable, but it's really a fruit. But what is it you ask? It's a tomato.
A big thanks to Kalyn Denny of
Kalyn's Kitchen
for the photo.
What's a picture of a tomato doing on a blog about barbecue? Well, the tomato is the foundation of many a great barbeque sauce, some chilis and many other essential recipes in the world of BBQ.
And this time of year one of my favorite things to do is to smoke tomatoes and rather then write an entire post about how to do it, I'm going to point you to two great blogs that lay it out very nicely. The first is
Kalyn's Kitchen
where she provides a great photo tutorial on how to do it. And the second is
A Veggie Venture
where second-generation food writer Alanna Kellogg expands on some of the many ways to use them. (Yes, I am sending you to a vegetarian blog - get over it)
Both sites are chock full of great information. You can even follow their recommended cooking times and temperatures. Just be sure to cook them outside on your smoker with a little pecan, maple or oak smoke. You'll be glad you did.