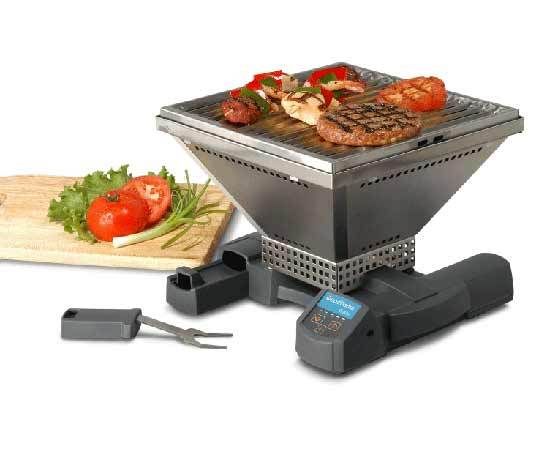 I just received
Steve Raichlen's
Up In Smoke
monthly newsletter in my e-mail. He mentioned a new wood burning grill from Canada that I've never heard of;
The Woodflame
.
I was wondering what makes a wood burning grill unique as I burn wood on my grills all the time. Even as a kid, I burned wood on the grill. Every campfire I ever cooked on used wood. So why would America's master barbequer recommend a specific wood burning grill?
Well, the
Woodflame grill
is a unique grill that uses 100% recycled wood cubes as its food source. You can cut your own wood as well, just make sure it's
hardwood
. From what I can gather from the website, you place a couple of cubes into a
sterno
like tube underneath the grilling surface and light them. The fire is then regulated by fans in the base. They claim that "collector trays and heat shields under the grill ensure Woodflame barbecues provide excellent cooking control by eliminating flare-ups from dripping fat."
The
Woodflame Grill
also claims (and I have no reason to doubt this claim, nor the previous claims) "provides the heat of a 60,000 Btu barbecue.
Grill temperature exceeds 537°C (1,000°F)." Wow. That's incredibly hot and way to hot for true barbeque. Make no mistakes about this folks, this is a grill not a barbecue.
There's one disturbing claim on their website which I'd love to investigate further... "Because it burns wood so efficiently, Woodflame does not give off smoke. Only your food is steeped in wood-smoke flavour." I know that when cooking I don't want thick smoke engulfing my food, but without smoke is there flavor?
The Woodflame sounds interesting and I'd really love to try one out, but their small model, the
Gusto
(pictured above) is listed at
Green Culture
for $299. I wonder what the larger model the
Delecto
costs. $299 for a very small grill is a little rich for my blood. I can buy a lot of
Weber Smokey Joes
for that money.