Book Review - Field Guide to Meat
Field Guide to Meat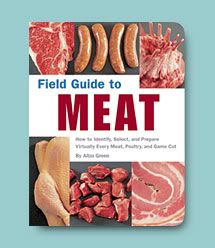 by
Aliza Green
Quirk Books
This a great little book that covers virtually every cut of meat available in the United States, be it beef, chicken, quail rattlesnake or alligator. It explains where the meat comes from on the animal, how it is cut and how long it can be stored. The book also explains how to prepare the meat and suggests flavors and spices that are compatible with each cut of meat.
The definitions are easy to read and understand. The pictures of each cut of meat are beautifully done and informative. One thing that would really help, in the next edition, would be an illustration showing where each cut of meat comes from on the animal. Broad illustrations are provided and they do show where chuck comes from on a cow, but not where a top blade steak is cut from the chuck. I would really like to see that.
If you ever had a question about meat, it is answered here. I highly recommend this book.