Luling Texas
Luling is an old Texas town, in what seems to me, city boy that I am, to be in the middle of nowhere. Driving into town, you are hit with a strong smell of natural gas. At first I thought that there was something wrong with my car but opening the windows only made the smell worse. Then I saw it, the first oil well pump of my trip. Now I understood the odor. Luling takes special pride in them and decorates many of the pumps. The first one I saw had a whale on it. Here's some pictures of others, courtesy of the
Luling Chamber of Commerce
.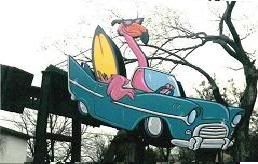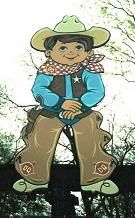 Luling is also host of the annual Watermelon Thump. If you're anywhere near Luling during June 23 - 26, 2005, be sure to check it out. It's one of those things that could only happen in Texas
But let's talk about what's important, the barbecue of Luling. In Luling I found two barbeque joints, Luling BBQ, which was closed when I was in town, and the legendary City Market.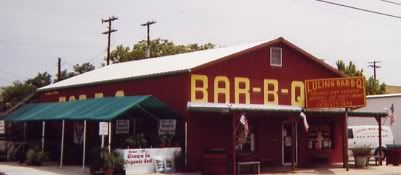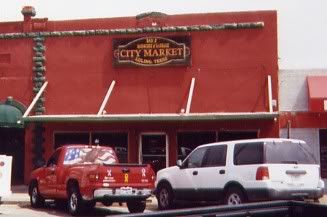 So, here it is my first restaurant review of a Texas BBQ joint.
City Market (No website)
633 E. Davis St.
Luling, TX
830-875-9019
Entering City Market I was immediately hit with wood smoke and silence. Smoke and silence are good indicators that you are about to eat some great barbecue. Why? Because people are too busy eating to talk and the smoke confirms a real wood fire.
City Market is divided into three rooms, two dining rooms, for lack of a better term, and the pit room. The pit room is located in the back of the main dining room. Its walls are composed of large windows that are hard to see through because of all the smoke stains. Entering the pit room is a religious experience; the smoke, the darkness, the heat and the smell of great barbeque envelope you.
You step up to the counter and order you meat by the pound and your sausage by the link. Your sides consist of onions, jalapeños and crackers. Your food is served on butcher paper which is also your plate and tray.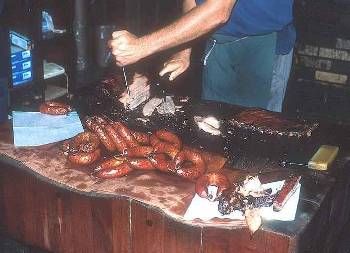 After gathering up your food, you go back to the main dining room to pay, buy soda (sorry pop - you're in Texas) and pick up some bread and cheese if you wish.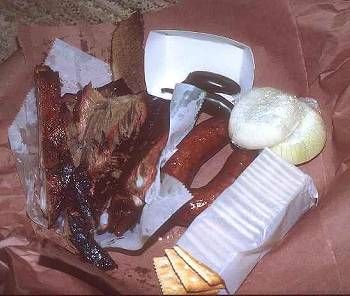 Settling down to eat, I started with the sausage. Every barbecue joint in Texas seems to make its own sausage. Texas BBQ sausage is much different from the smoked sausages that are available in New York. The force meat is much looser and much more mildly spiced. When you cut a Texas BBQ sausage, it's not uncommon for the meat to spill out of its casings. The sausage was excellent, mild, juicy and perfectly cooked. The brisket was perfectly cooked; tender, juicy and tasty. I was getting spoiled; there are so many great barbecue places in Texas.
Then I tried their sauce. City Market makes the best BBQ sauce I've ever had. Hands down. There sauce was an orange potion with spices floating throughout. It seems to be mustard based, but there was definitely a hint of tomato. It is unique. Unfortunately, they don't bottle it. I was really surprised to find a great barbeque sauce in Texas. Texas barbecue is usually served and eaten dry.
The only food complaint, which I guess is a New York thing, is the cheese. All the BBQ joints in Texas Hill Country seem to serve the same cheese. It tastes like a cross between American cheese and a very mild cheddar. It's very disappointing and doesn't hold up to the flavors of all that great BBQ meat.
City Market is like a step back in time. They still honor old cooking methods, old furniture and old ideas. They could make some real money by having souvenirs available and setting up a website where you could buy there sauce and meat. I know I'd buy it. But, they excel in what really matters, their food. I've only been gone a week and I want to go back!
The previous 2 pictures are courtesy of
RoadFood.com