One of the great things about the BBQ circuit is meeting the other judges, cooks, teams and organizers. I have to say that just about everyone I've met on the circuit has been real good - salt of the earth - type people. The stories of one team helping out another are legend.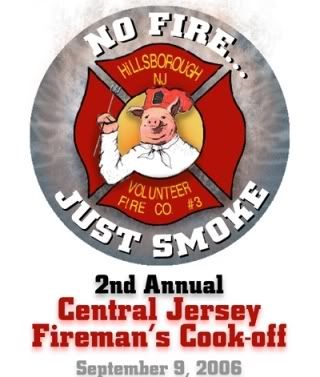 At Guitarbeque this year I got to spend some time with the
RIBS Within
team. I don't remember names for shit, so I didn't remember that we had met before when I saw the name, but as soon as I saw
Doug and Laura
I recalled them from past events. They're good people.
Doug and Laura are busy this summer putting together the
2nd Annual Central Jersey Fireman's Cook-off; No Fire Just Smoke.
It's a one day event held to benefit the local
Hillsborough Volunteer Fire Company
. And contrary to the event's name, this contest is open to anyone with a grill can enter. You can find the entrance forms here.
So on September 9th, I'll be there along with
Matt of the Hampton Smoker
. I hope you'll join us in supporting this good cause. Money from last year's event purchased two HAZMAT suits for the firemen. Let's see if we can do more this year.