Book review: Peace, Love and Barbecue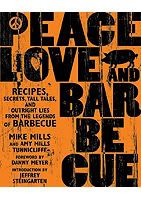 Peace, Love and Barbecue
By:
Mike Mills
and
Amy Mills Tunnicliffe
Rodale Books
I just finished reading this incredible book by Mike Mills, three times Grand Champion for
Memphis In May
. I can't recommend this book highly enough.
If you want award winning barbeque recipes, they're here. If you need a travel guide to the great BBQ restaurants all across the US, this is the book. If you want to know what it's like to be a competitor at local and major barbeque contests throughout the United States,just read this book. Need to know how to run and open a BBQ restaurant, this is your guide.
Reading Mike's stories and tall tales remind me of the stories told during late night cooks at the competitions. This book really captures the essence of BBQ. Go buy it!