BBQ Contests: Hillsborough Results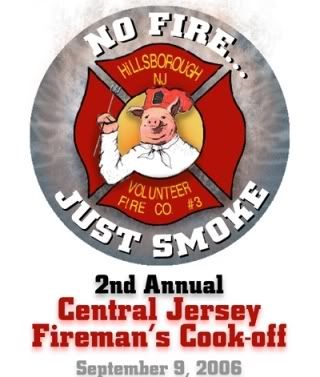 Here's the results of the Hillsborough New Jersey contest,
No Fire, Just Smoke
contest. This event is a one day grilling contest with all profits headed to the Hillsborough Fire Department. I was unable to attend this year, but from what I hear, a great time was had by all.
1. Ribs Within (tie) (coin toss, Ribs Within won)
2. Oak Pork Rib Splitters (tie)
3. Minick's Barbecue
4. Burnt Side down
5. Que Boys
6. Lo-n-Slow
7. Our Couch
8. Ocean County Pig Assassins
9. The Stu-Pit
10. PigPen BBQ
11. Hoff Daddy's
12. 222 Smoking Crew
13. Wheels of Fire
14. The Swamp Pit
15. Brick Beach BBQ
16. Smoking Jersey Shorecats
17. Jumping Dog BBQ
18. Elizabeth Avenue FD
19. Memphis BBQ Company
20. CT's BBQ
21. Smoker's Delight
22. Moose's Mayhem
23. Richie's Rib Shack
24. Up in Smoke
25. The Senator