Mexican Barbecue
Continuing our trip around the world of barbecue, here's a recipe for a really great Mexican rub. I've used this on pork and beef, and it's good on both, but it really shines on pork.
La Parilla Traditional Achiote Recado
Recipe By :
La Parilla the Mexican Grill
by
Reed Hearon
2 Tablespoons
Annatto Seeds
1/2 Cup Water
1 Teaspoon Ground
Allspice
2 Teaspoons Ground
Black Pepper
1/2 Cup
Ancho Chile Powder
4 Teaspoons
Kosher Salt
1 Tablespoon
Mexican Oregano
-- Toasted And Ground
3 Cloves
Garlic
-- Peeled
1/2 Medium
White Onions
-- Thickly Sliced
1/4 Cup
Apple Cider Vinegar
1 1/2 Cups Freshly Squeezed
Orange Juice
1/4 Cup Freshly Squeezed
Lemon Juice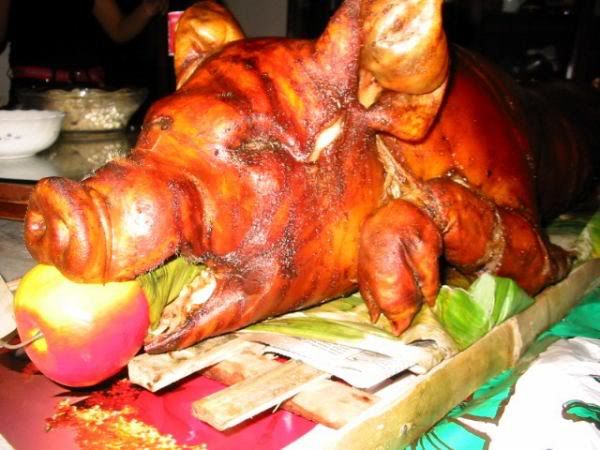 This mild, citrusy red spice paste can transform the blandest of foods. It comes from the Yucatan, where it typically flavors Pibil-style suckling pig. The pig is rubbed with the recado, wrapped in banana leaves, and then cooked in a stone-lined pit until the meat is so tender it falls off the bones. Grilling is a less traditional, but no less delicious, method. Use for meat, fish, and poultry. Purchased achiote paste saves a good deal of time and makes a less complex but acceptable recado.
Put the annatto seeds and water in a small saucepan and place over high heat. Bring to a boil, cover, and lower heat to simmer. Cook 30 minutes.
Remove from heat and let steep 2 hours, or until softened.
Pan roast the garlic and onions until brown and soft.
Drain the annatto seeds and put into a blender or food processor along with all the remaining ingredients. Blend until smooth.
Keeps, tightly covered, up to 5 days in the refrigerator
Makes about 2 1/2 cups