Canadian Barbecue
Oh, Canada, our home and native land....
Ok, that's about all I remember from the hockey games. Canadian barbeque. It sounds like an oxymoron doesn't it? What do Canadian's know about barbecue? Wait a minute! Am I guilty of the same prejudices as my Southern neighbors towards me, a New Yorker and the Q, when it comes to our northern friends and allies? Well, maybe. Just a little. But there's hope.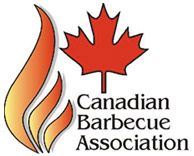 Let me introduce you to the
Canadian Barbecue Association
. The Canadian Barbecue association is not for profit organization that officially represents and promotes barbecuing in Canada. It was created in January 2004 by barbecue enthusiasts. The board members include backyard grillers, barbecue hobbyist, and barbecue industry representatives who "love to barbecue".
The
Canadian Barbecue Association
was established for the purpose of:
Promoting and protecting the interests and conserving the rights of those engaged in the barbecue industry, both directly and indirectly
Maintaining and improving the qualifications and standards of the barbecue trade
Ensuring uniformity and consistency in use and methods of barbecue including both grilling and smoking and the use of the following heat sources: charcoal, propane, natural gas and wood
Bringing together all aspects of grilling, from equipment manufacturers, food and beverage suppliers and the consumers who use barbecue for both food and entertainment
With the exception of propane and natural gas use, I think the
Canadian Barbecue Association
is on the right track and I wish them great success. Who knows, the winner of the next
Jack Daniel's
contest may be a Canadian!
And before I leave you today, here's a recipe for
Canadian Barn BBQ Sauce
from Wendy over at
All Recipes
.
Canadian Barn BBQ Sauce


"This flavorful barbeque sauce for ribs is just like the kind they serve at a famous restaurant in Montreal, Quebec that has people lining up on the street any given night of the week. Try this -- you'll luv it! Don't' skip the lemon juice or cinnamon. Simmer the left over sauce until sugar is completely dissolved and serve as extra sauce for those who like their ribs dripping with flavor."
Original recipe yield: 3 cups.
Prep Time: 10 Minutes
Ready In: 40 Minutes
Servings: 8
INGREDIENTS:
1/2 cup ketchup
2 cups packed brown sugar
6 tablespoons lemon juice
1/2 teaspoon salt
1/2 teaspoon black pepper
1/2 teaspoon paprika
1/2 teaspoon garlic salt
1/2 teaspoon ground cinnamon
DIRECTIONS:
In a medium bowl, mix applesauce, ketchup, packed brown sugar, lemon juice, salt, black pepper, paprika, garlic salt and ground cinnamon. Use the mixture to marinate ribs in the refrigerator for at least 30 minutes before preparing as desired.
(WTBBQ EDIT - Don't you dare - all that sugar will burn! Use as a basting sauce only!)
Also use for basting the ribs while cooking.