Barbeque Rubs and Sauces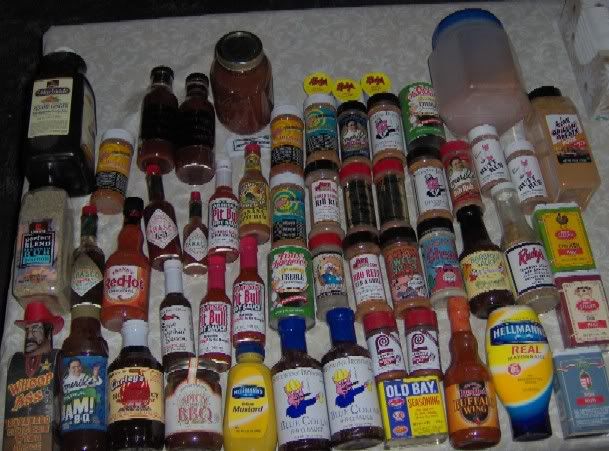 Spring is finally here. Albeit a rainy spring, all weekend it rained. Water pelted the land at an almost non-stop pace Friday, Saturday and Sunday. It wasn't a weekend for barbeque. Damn.
But it was a good weekend to do some housekeeping. I had two cabinets in the kitchen filled with barbeque rubs, sauces, spices, rubs and seasonings. It's amazing how fast these things pile up. Well, with a little incentive towards spring cleaning, I consolidated two cabinets into one. Some of the rubs and sauces had to move out of the kitchen and have found a new home in the basement. The scary part is that I still have a cabinet in the kitchen filled with rubs and sauces. These are the overflow!
The picture above is of the newly exiled. They''re like the reserves, waiting to be called into duty. Oh, they will. Believe me. In the not too distant future, these orphans, these cave dwellers will be called to do their jobs, lay down their lives and season my meat. That didn''t sound right.