Easter barbecue - Birdland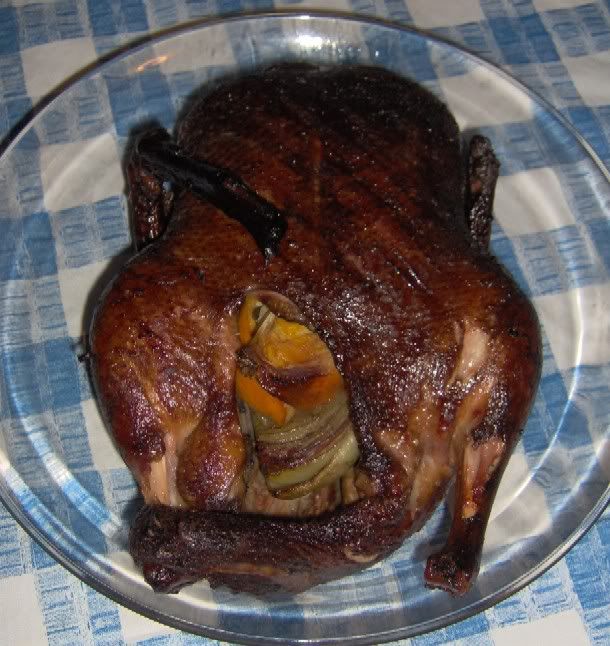 Well, Easter has come and gone and this year we had some damn
good eats
. This year's menu, after much arguing and discussion with the family was
apple brined smoked turkey
,
red wine marinated duck
, fattie stuffed mushrooms, steamed asparagus with a red wine-walnut vinaigrette,
Yukon gold mashed potatoes
, cranberry sauce, buttered corn, corn bread stuffing and pumpernickel rockies.
I smoked everything in the trusty
Weber Smokey Mountain
, using
maple
and
hickory
wood for the fire, with the duck on the top shelf. As the duck cooked, its drippings fell on the
turkey
below. I posted the recipes for the Apple Brined Smoked
Turkey
and Wine Marinated
Duck
already, so here are the pictures and the results.
This
duck
was amazing. It was tender, juicy and flavorful. I want to give a big thank you to Troutman of the
BBQ-Brethren
for the recipe. I pretty much followed his recipe, but I didn't use the
majoram
on the outside. Instead I put some fresh majoram stalks inside the duck with some chopped orange pieces since I didn't have any apple in the house.
I love
duck
. I order it a lot in restaurants, but I never cook it at home because "no one" eats
duck
. Well, now my daughter does. Now my cousin does. Now my neighbor does.
Duck
is back in the cooking rotation in my house. This was a big hit!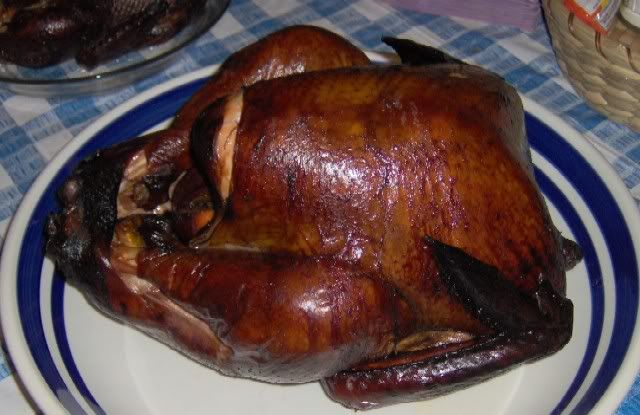 Here's a picture of the Apple Brined
Turkey
. It was good but not the amazing knock out that the folks at the
Virtual Weber Bullet
promised. It may have been my fault, because I let the
turkey
get a little too done because my guests showed up and hour and a half late. I will try this again, but there will be some tweaking of the recipe.
And here''s a new recipe for the Fattie Stuffed Mushrooms. These were absolutely amazing. I thoroughly enjoyed them and they all disappeared almost as quickly as I put them on the table.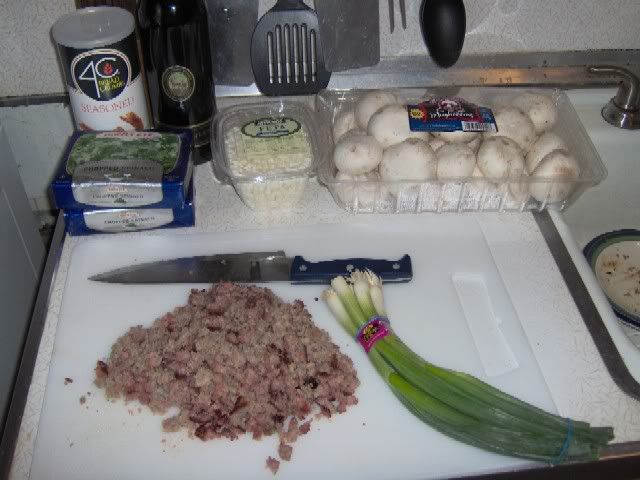 Be warned about the measurements in this recipe. I don't measure anything when I cook. The measurements posted are all best guesses. Feel free to adjust as you see fit. To me that's part of the fun of the cook. Who ever follows a recipe exactly?
Fattie stuffed Mushrooms
1 lb smoked Jimmy Dean Sage Fattie - crumbled or diced
2 eggs
1/4 cup bread crumbs - probably less - just enough to hold things together
1 box chopped spinach, drained of any extra water
Shot or so of red wine. I used Merlot. Keep the mixture moist
4 scallions finely chopped
1 small bottle of pine nuts - toast in a pan before using
A few handfuls of golden raisins. I used them whole, but next time I'll chop them.
4 oz of crumbled feta
Salt and Pepper to taste. Be careful of the salt - the feta is salty on its own.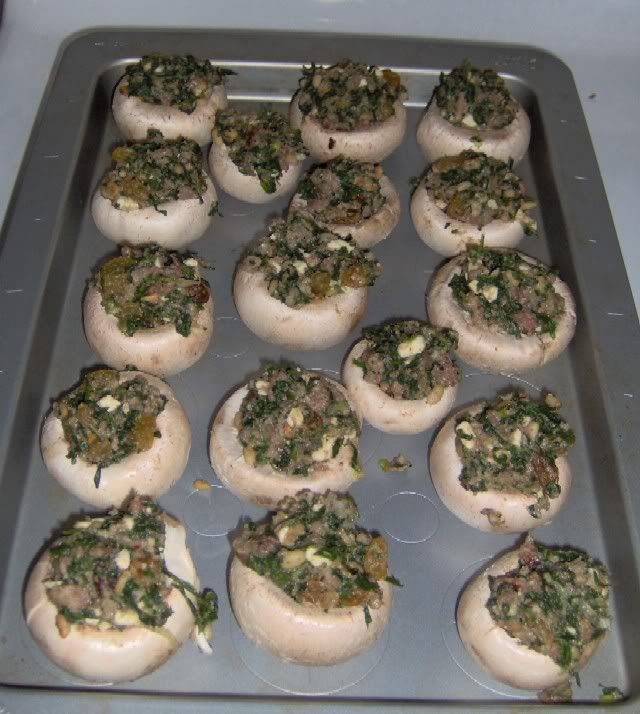 Mix all together and place in uncooked mushroom caps.
Bake in 450 degree oven for 15-18 minutes, until mushrooms are tender but not mushy. I'm sure you could smoke these, but I only wanted the smoke flavor from the fattie.
I used a 40oz box of mushrooms and had a lot of stuffing left over. You could probably cut everything in half and still have enough stuffing for the 40 oz package of mushrooms.
This is a picture of the stuffed mushrooms as they headed into the oven. Looking back, I should have used an ice cream scoop to put the stuffing in the caps. It would have certainly be neater.
I had a picture of the finished product, but it didn't come out. The picture was blurry and the mushrooms didn't look that much different, just a little darker.
Happy Easter folks and look for a lot more postings from WhiteTrash BBQ. Spring's here and the fires are going. The competition season is starting soon and I have spring fever! Bring on the meats!