Restaurant Review: The Cookhouse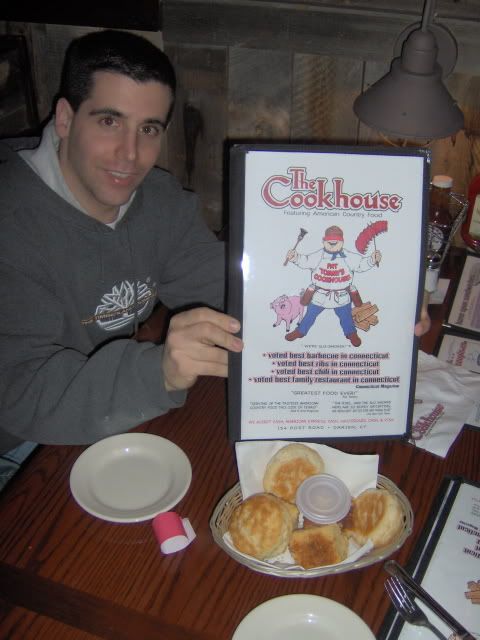 The Cookhouse
154 Boston Post Road
Darien, CT.
This review is overdue. Way overdue. Back on March 18th, Militant Squatter of Bad Bones BBQ Crew and Smoker of the
BBQ-Brethren
BBQ team and I met up and headed out to judge at the
New England BBQ Society
's Annual
Snowshoe Challenge
in Abington, MA. You can read about the judging experience
here
, but I need to talk about the restaurant find that we discovered on the trip home.
Submitted for your approval, three grown men in a small red car traveling on an interstate highway returning to the
Big Apple
. They've been up since about 4 in the morning and have already traveled far. They've feasted on fish, sausage, beef steak and vegetables. But a sign beckons from the side of the highway - "Best Barbeque in Connecticut." Throwing caution to the wind, and crossing three lanes at considerable speed, they pull up in front of
The Cookhouse
.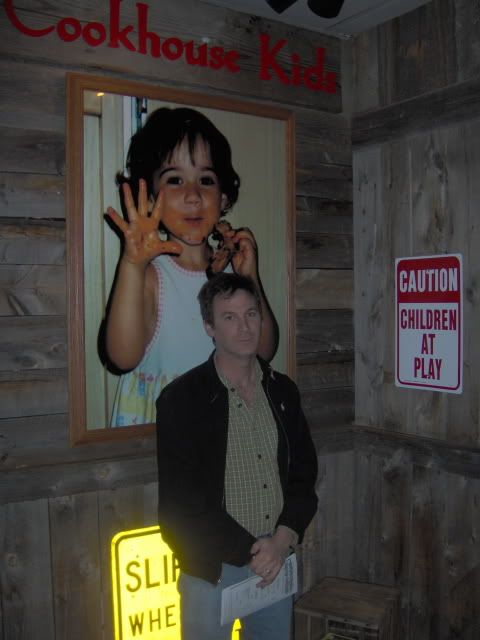 At first glance,
The Cookhouse
is a bit disappointing. The restaurant is housed in a converted
Red Lobster
and on the outside it still has that familiar nautical feel. But stepping inside, the place has been converted. It's warm and welcoming, with the tell tale smell of wood smoke, albeit with a slight feel of mass commercialism. The chain restaurant roots of the building are disguised but not completely gone.
We arrived and were told there would be a slight delay. As Smoker, Militant and I waited we wondered around, perused the menu and joked that this place was about to be reviewed by three
Certified Barbeque Judges
. Would "Fat Tommy's Slo-Smoked Barbecue" live up to it's promise? We've heard it all before. We've been tempted by slogans before only to be presented with boiled ribs and liquid smoke filled sauces. Our expectations weren't high, but our standards were. Not only are we
Judges
, with a capitol
J
mind you, but we all cook barbecue on at least a weekly basis. Could
The Cookhouse
stand up to our own backyard and award winning competition Q?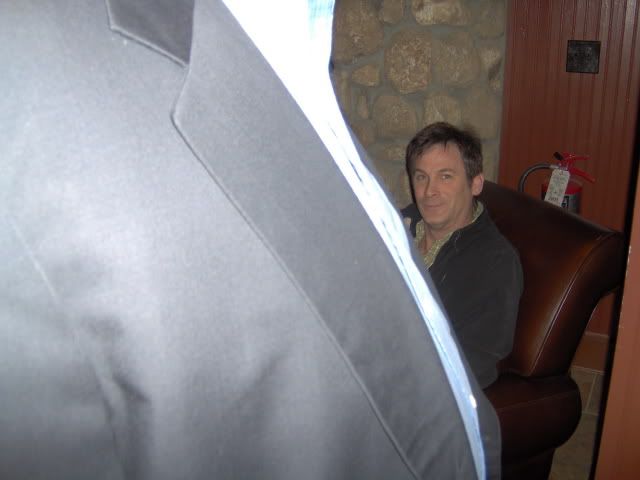 As we waited, we started taking pictures of the restaurant. Smoker was enjoying the fire place when Fat Tommy made his first appearance. None us knew who he was, but he apologized for ruining the picture and introduced himself to us.
Fat Tommy is a convivial host and asked us if we had been there before, where we were from and all sorts of the usual restaurateur chatter. But we decided to raise the stakes. Tell us about your cooker Fat Tommy, your woods and your methods. He replied that he used a
Southern Pride
cooker and cooked only over wood. Then we dropped the hammer - we're not regular customers - we're
Certified BBQ Judges
! Fat Tommy- (I wonder if he likes being called that?) - laughed and said that his food was good and hoped it would meet our expectations. He then invited us on a tour of the kitchen. Now that's class.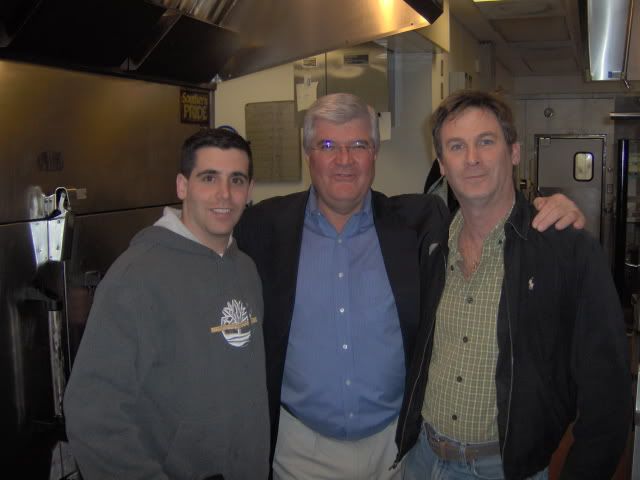 We were seated in the bar area, far away from the dear children that Smoker loves soo much, Fat Tommy introduced our waitress, Lizzie who handed us our menus and we debated what to eat. Now don't forget, we just judged a competition. We just ate about 2 pounds worth of barbeque. We decided that we would try to cover all the meats that Tommy offered.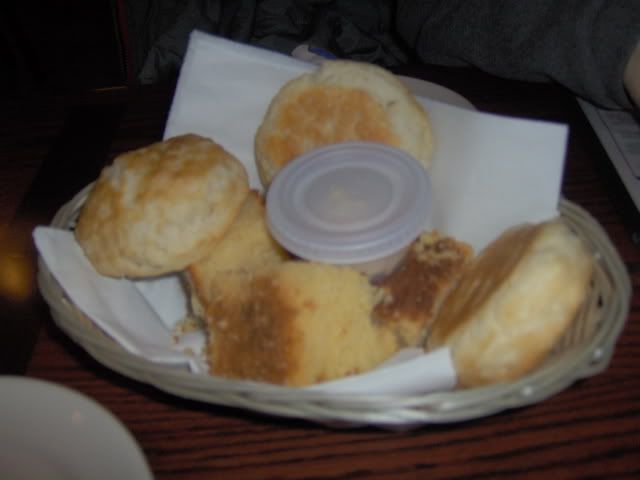 As we looked over the menu, we were served some biscuits and cornbread with a kane sweetened butter. Man these were good. I could have made a meal out of them alone.
We decided to start with the appetizers. Tommy suggested we order the Bunkies, so we did. From the menu ""Bunkie Meat Pies $5.99 (because we make fresh daily will only be offered as a special) -- Rob & Fat Tommy Used To Drive 30 Miles To A Trailer Where These Were Sold In Bunkie, La. Rob's First Food Fantasies Were About These Little Pies Filled With Beef, Pork, Hot Red Pepper & Other Good Stuff. Served With Cookhouse Jelly For Dipping."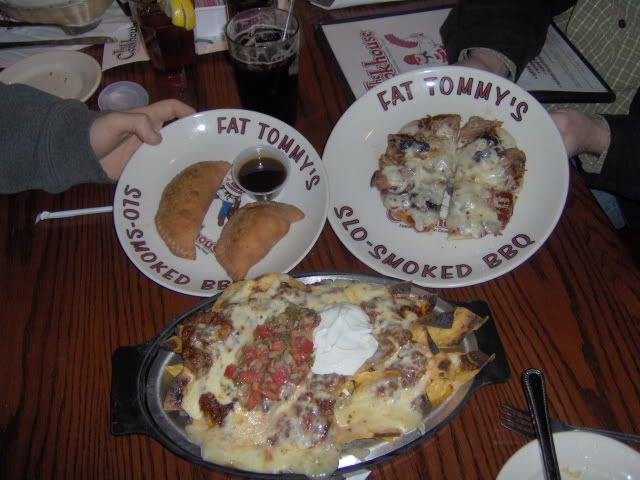 We also ordered the Nachos ""Nappy's Nachos $9.99 -- Nappy, One of Our Cooks, Made A Dish For The Staff That We All Loved. Taco Chips, Beef, Pork, Beans, Pepper Jack Cheese, Jalapeno Peppers, Fresh Tomato Salsa & Sour Cream. This Is Huge & Suitable For Sharing."
And finally the BBQ Pizza ""BBQ Pizza $5.99 -- A Cookhouse original with pulled pork, onions, cilantro, BBQ sauce and Pepper Jack on a crisp Flatbread"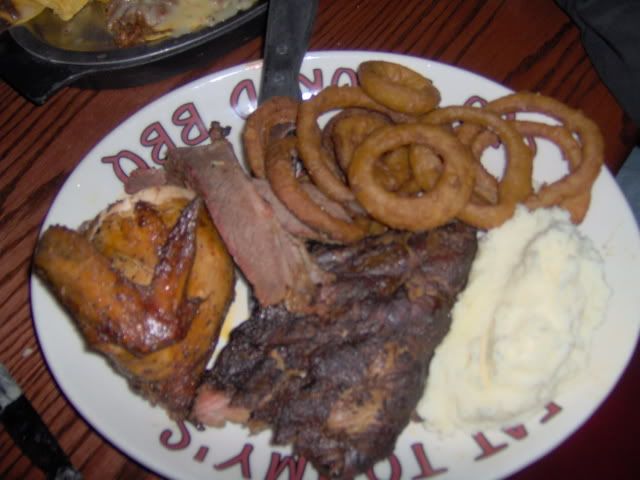 For dinner, we ordered the previously mentioned beef rib and Tommy''s Tombo Combo ""The Tombo-Combo $21.99 -- A Feast For True 'Cue Lovers & A Bargain To Boot. Choose Any 3 Of: Ribs, Brisket, Chicken, Pulled Pork (From Our Smithfield Butts) Or Andouille Sausage. Plus Two Sides. Dig In! (To Choose Ribs Twice Add $4.00) -- We went with the chicken, brisket and ribs with the sauce on the side.
There''s a tip there folks. No, make that a rule. When ordering at a barbecue restaurant, always order your meat without sauce. Many a time a good meal is ruined by the kitchen dumping overly sweet and way too much sauce on perfectly good food. Tommy's sauces were excellent. I liked every one of them.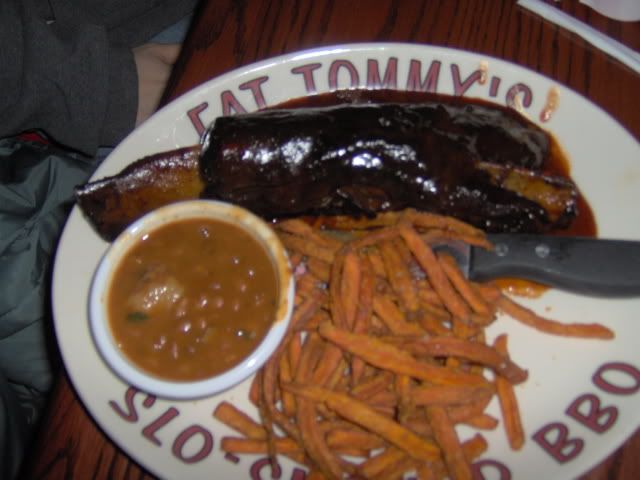 As we were served, our waitress took real good care of us. She was funny, friendly and open. She let us in on some secrets on working for Fat Tommy and
The Cookhouse
. (Tom -- you''re going to have to ask her, but believe me you won''t be disappointed.) And at some point Tommy''s wife came over and took our picture for "The Wall."" Tommy also checked up on us a couple of times. But he did it with skill. We felt taken care of and never interrupted.
OK -- let''s get down to the nitty gritty -- how was the food? Readers of this blog know that I'm not a fan of most barbecue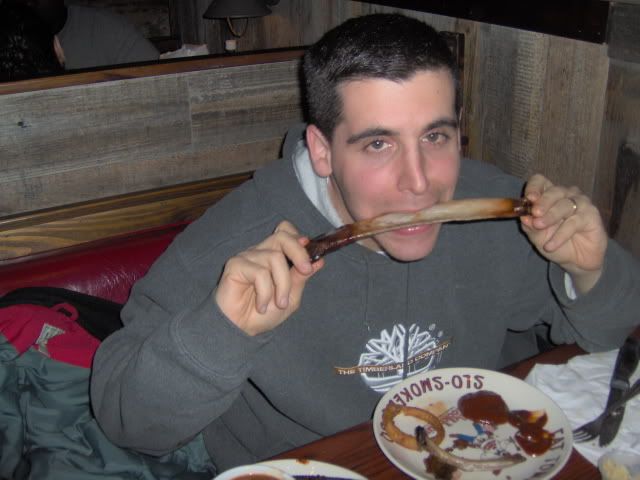 restaurants and very unforgiving when reviewing them. But are you ready for this? Are you sitting down?
The Cookhous
e
has the best restaurant barbeque that I have ever had. Hands down. I really can''t find a criticism in the whole experience, and believe me, we tried. The Bunkies alone are worth the trip. We were treated like Kings.
Even with the current gas prices, I''m looking for any excuse to drive up to Connecticut and eat at
The Cookhouse
again. ROAD TRIP -- ROAD TRIP -- – ROAD TRIP!