This was in the Baltimore Sun a little while back. It's a good piece about a great barbecue town in Texas. I was there and hit all of these places with the exception of the Chisholm Trail. While the text is from the paper, the pictures are all mine.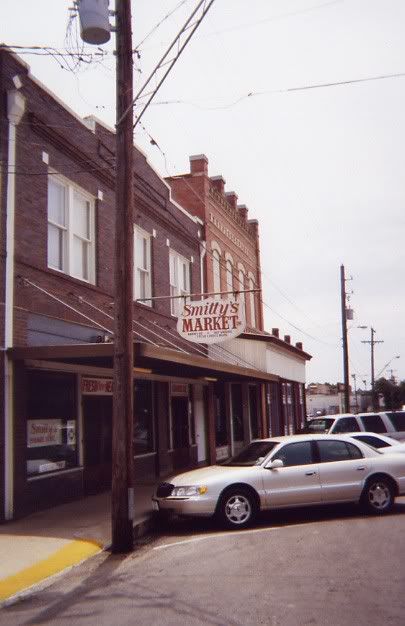 Destination Texas
Small town boasts big barbecue reputation
By John Nowlan --Special to the Sun
LOCKHART, Texas -- David Brent, the chief deputy sheriff of Caldwell County, has to be politically correct when making his rounds, especially when it comes to lunchtime. With four top barbecue joints all within his district, he prefers to eat rather than talk.
The Lone Star State is widely known for its outstanding smokehouses, which produce some of the most succulent, slow-cooked meats on the planet. But this quiet town of 12,000, a 30-minute drive south of the state capital, has a special status. It's the Barbecue Capital of Texas and has been since 1999, when the legislature in Austin passed a bill giving Lockhart the official seal of taste approval.
Brent agrees as he chows down on deep-smoked beef brisket (black on the outside, fall-apart tender on the inside), homemade sausage and pork chops laid out on a couple of sheets of butcher paper and accompanied by soda crackers and a tall glass of Dr. Pepper. Today he's filling up at Smitty's Market, an old-fashioned dining hall adjacent to the soot-covered, open-fire smokehouse and century-old meat market.
"I can't say which of the four barbecue pits in Lockhart is best," he says, "because I gotta be careful in my job and can't play favorites. But really, I've been raised on this stuff and I love 'em all."
There's lots to love in Lockhart if you're not a vegetarian.
The Chisholm Trail Bar-B-Q, at the south end of town, smokes its meats on a rotisserie while flaming oak logs crackle beneath. In a back room, workers stuff fresh-ground beef and pork sausage into casings, hand tie them and lay them out to be hung in the smoke. Unlike Smitty's, the Chisholm Trail offers side dishes such as pinto beans, fried okra and squash.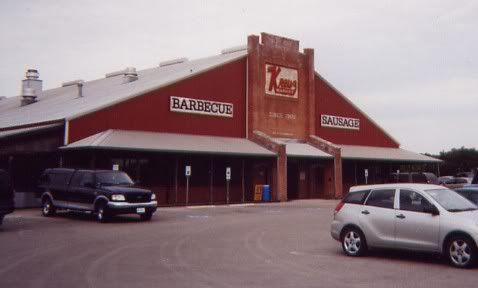 At the other end of town, Kreuz Market, a century-old grocery store and meat market that evolved into a barbecue restaurant, serves its slow-cooked brisket and sausage in a large red-brick-and-tin building filled with antiques and early business machines.
Kreuz is the most traditional of the four barbecue places in Lockhart and refuses to provide barbecue sauce ("it just covers up the true flavor") or forks ("for 100 years, folks here just used their hands and a knife. There's no need to change"). A few side dishes have been added recently, including beans, German potato salad, sauerkraut and a new jalapeno cheese sausage.
Black's Barbecue, in the center of town, also started off with a "no sauce" policy, but co-owner Edgar Black soon changed his mind after "a lot of people from the North came down and asked for it."
The rich, red-orange sweet sauce with a hint of lemon and cumin is made fresh each day by his wife, Norma. It accompanies a brisket that is indirectly smoked over post oak for 24 hours and seasoned with salt and pepper to become, as Gourmet magazine writes, "the best BBQ in the heart of Texas, and therefore the best on earth."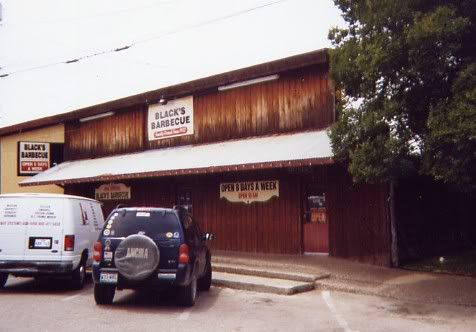 Nothing's too fancy in any of these four Lockhart restaurants, yet the amazing aromas and tastes manage to attract about 5,000 meat-loving patrons a week.
If Lockhart is the epicenter of Texas barbecue, the Salt Lick in Driftwood, just outside Austin, is the best known. Now expanding beyond Texas (it has a branch in Las Vegas and sells its sauce in New York), the Salt Lick is famous for its huge portions of mesquite-smoked beef brisket, sausage and pork ribs accompanied by beans, potato salad, coleslaw, bread, pickles and onion topped off with homemade peach or blackberry cobbler - all you can eat within a 3 1/2 -hour time limit for just $15.95. Cash only.
Unlike Lockhart's barbecue joints that sell lots of beer, the Salt Lick is in a dry county, so patrons are welcome to bring their own. And they do, parading in with large picnic coolers brimming with Bud Light or the local favorite, Shiner Bock.
Barbecue aficionados often have to wait an hour or more to be seated at the long picnic tables at the Salt Lick. But most feel it's worth the wait, with after-dinner comments such as, "They had to roll me away from the table."
Texas is a dangerous place for weight watchers.
And vegetarians.
---
If you go
GETTING THERE
Lockhart, Texas, is about 30 miles south of Austin. Several airlines offer connecting flights to Austin from BWI Marshall Airport. Round-trip airfare starts at $209.
DINING
Black's Barbecue // 215 N. Main St. 512-398-2712 or
http://www.buyblacksbbq.com
. Owned by the same family since 1932. Serves smoked hardwood meats and sausage and made-from-scratch barbecue sauce.
Chisholm Trail BBQ // 1323 S. Colorado St. 512-398-6027. Serves barbecued meats with lots of sides, including beans, coleslaw and fried okra.
Kreuz Market // 619 N. Colorado St. 512-398-2361 or
http://www.kreuzmarket.com
. Serves diners on plain brown butcher paper, doesn't offer many sides and eschews barbecue sauce and forks.
Smitty's Market // 208 S. Commerce St. 512-398-9344 or
http://www.smittysmarket.com
. Serves brisket, chops and chicken smoked to perfection.
The Salt Lick // 18300 FM 1826, Driftwood. 512-858-4959 or
http://www.saltlickbbq.com
. Known for its huge portions of mesquite-smoked beef brisket, sausage and pork ribs.
INFORMATION
Lockhart Chamber of Commerce // 205 S. Main St. 512-398-2818 or
http://www.lockhart-tx.org
.
Labels: barbecue, barbeque, bbq, black's, kreuz, lockhart, restaurant, smitty's