BBQ Overload
Where have I been? Why no posts all weekend?
Well, with the Grand Exalted Mystic Poohbah and SledNeck of the
BBQ Brethren
cult, over this last weekend, we prepared 350lbs of beef brisket, pork butt, baby back ribs and chicken for the
Kansas City BBQ Society's Certified Judges Class
sponsored by the
Grill King
s. This was the largest cook I've ever done and I was exhausted by it all.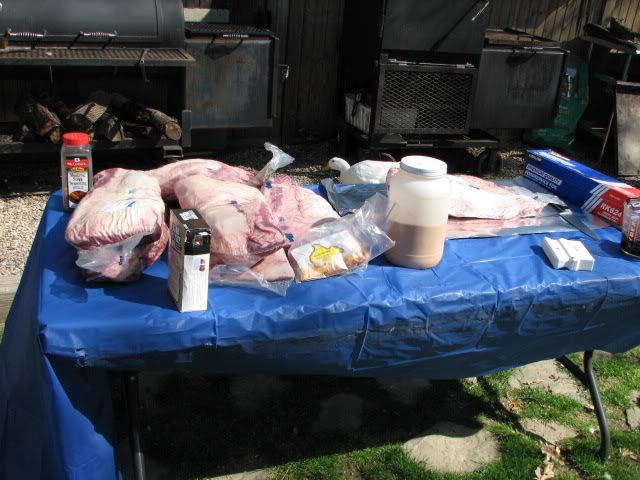 Here's some pictures of the cook.
First the butts in cyrovac. If you look carefully, in the background you can just make out the infamous Sir Shitsalot. The butts are laid out on the table in front of a
Klose
Backyard Chef. The
BYC
is one of the finest smokers money can buy.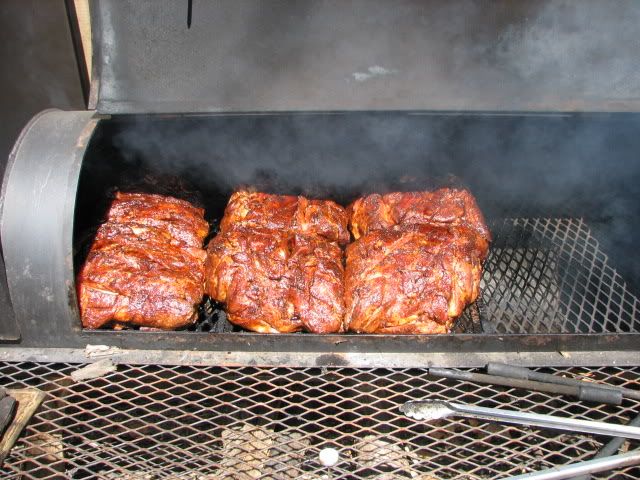 Luckily the Poohbah has some deep pockets and an understanding wife.
Here's the butts cooking on the
BYC
. We coked the meats over a mix of cherry, apple, oak and hardwood charcoal. You know, the real stuff that's just burned chunks of wood. None of that processed charcoal brickette stuff used in most cooks. (The brickette has it's uses, and astute readers will be saying - "Wait a minute - doesn't WhiteTrash use brickettes all the time?" Well yes I do.) But the
BYC
is what we like to call a stick burner and is designed to be used with wood. It actually works better with sticks than with brickettes.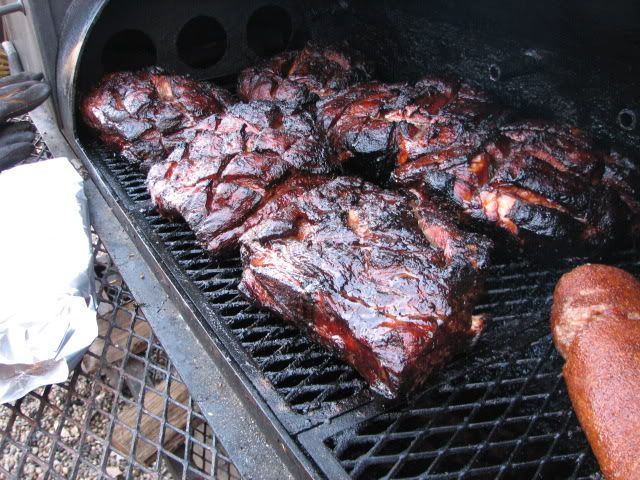 Next take a look at the butts just about done. Poohbah decided that he wanted to play with these pork butts a little and actually scored the fat cap into diamond patterns. He figured that the increased surface areas of the pork butts would allow the rub to flavor the meat better. Umm, could be.
On the grill next to the butts, you'll see an infamous fattie. A fattie is nothing more than a
Jimmy Dean bulk sausage roll
that has been smoked for a few hours. A lot of people, SledNeck included, love the fattie, but I don't understand the attraction. They're OK, but in my humble opinion, un-worthy of the cult status afforded them.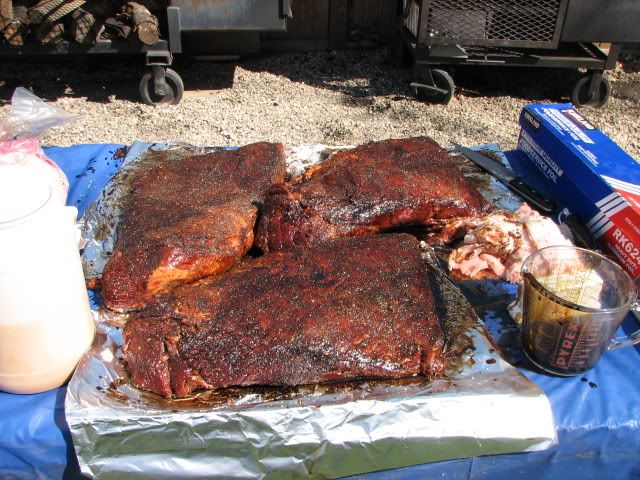 Now here's a picture of some of the briskets after they've been rubbed and seasoned. Rubbed and seasoned you say? Yes, rubbed and seasoned. Poohbah uses both a dry rub and some liquid seasonings when prepping his beef brisket. I'm not at liberty to share the recipe, as it is a competition secret, but it's damn good.
And no, Sir Shitsalot still lives. He's not in the picture because he was off visiting some of his migratory friends who flew in no doubt drawn by the intoxicating aroma of the smoke.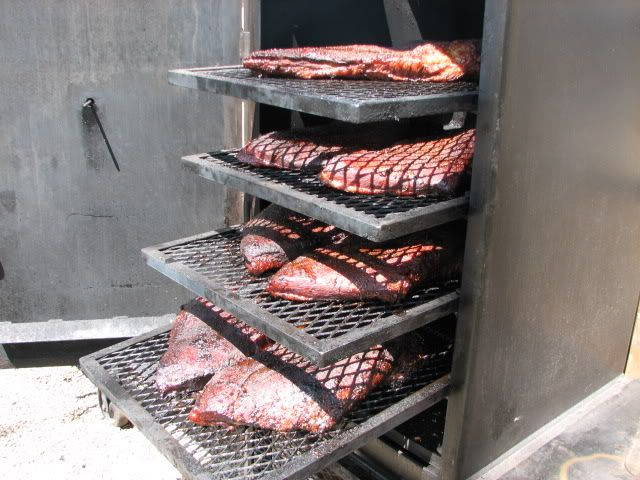 Here's the beef briskets cooking in the
MOAB
- the Mother of all Banderas. This is a custom made and designed smoker by
Dave Klose
for the Poohbah. There's a long story behind this smoker, and I'll get into that another night, but for now just know that this is my absolute favorite piece of barbeque equipment I've ever used. The
MOAB
is also a stick burner and we used the same mix of woods to cook the briskets.
Those briskets weigh between 8 and 14 lbs and will take up to 20 hours to cook.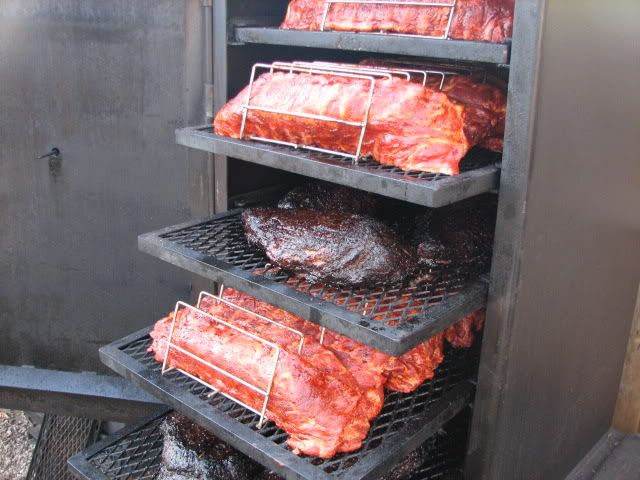 Stubborn pieces of meat briskets are.
In the next picture, you'll see we've loaded baby back ribs into the MOAB. But where's all the brisket? It's there. It's just shrunk in the cooking process. Brisket will shrink as much as 30% when you cook it and these were no exception. With the smaller briskets, we were able to load 27 racks of baby back ribs into
MOAB
.
The ribs were stripped of their membrane and rubbed with a custom made rub filled with all sorts of exotic spices. I won't get into all of the ingredients, but we began with a bottle of
South Side Marke
t's rib rub and mixed it with their all purpose BBQ seasonings. This rendered the rub much too salty for a New York audience, so we modified it to our tastes. Let's just say we were pretty creative in the ingredients and emptied many a cabinet out
quick
.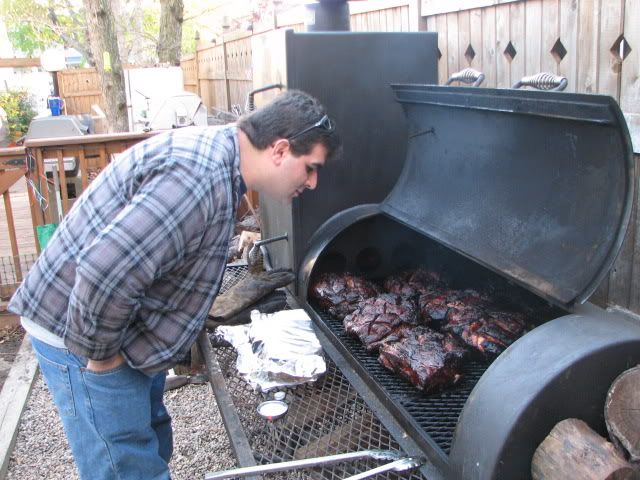 And finally a picture of the elusive SledNeck checking out the pork butts as they cook. There's an old saying in the world of barbecue, if you're looking, you ain't cooking. Well, here SledNeck proves them wrong. He's looking and he's cooking. It's all part of the process.
Well, that's all for tonight. I'll post the story of the judges class tomorrow.
As you leave the world of WhiteTrash BBQ, may I suggest you visit two of my loyal friends who were both busy tending the flames this weekend. First, stop by
The Hampton Smoker
who indulged in an all night cook for a great cause. Then say hello to Lenn at
LennDevours
who had his first smoke on a Weber Smokey Mountain.