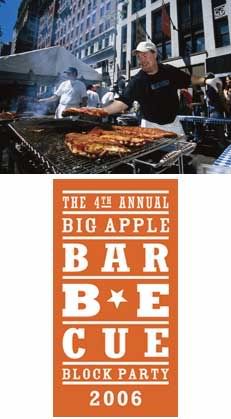 The
4th Annual Big Apple Barbeque Block Party
has been announced for June 10th & 11th this year. This event unites pitmasters from all over the country, shakes off their country boy roots and plops them down on the mean streets around Madison Square park in Manhattan.
There will be a BBQ film, 12 of the nation's top pitmasters, live jazz, blues and bluegrass, book signings and seminars with some of the pitmasters. I met
Paul Kirk
one year and had a great time talking with him.
You'll get a chance to taste some of the BBQ world's regional specialties like pulled pork, brisket, ribs and sausages cooked by the best. Each pitmaster cooks true to his location and if you don't know the differences in BBQ regions, here's a great chance to learn. One year I ate pig snouts. Yup - pig snouts. OK - I won't do it again, but I had to try it.
Some of the folks scheduled so far are:
Southside Market
,
Paul Kirk/RUB
,
Mike Mills
,
Ubon's
,
Big Bob Gibson
,
Blue Smoke
,
Mitchell's
,
B.E. Scott's
,
The Salt Lick
and
Dinosaur Bar-b-que
.
This really is a must attend event for any of the tri-state barbecue nuts. But, be warned, the lines for food are outrageous. Get there early or you'll risk missing out on your favorites, because when the food's gone, it's gone.
In an attempt to help speed the lines and make sure everyone eats, the organizers are offering a Bubba Pass for either $125 or $200. (Food costs $7 a plate) The Bubba Pass offers the bearer a chance to use the "express lines" at the food booths. If it works, it will be definitely worth the investment.
Time Out New York
is hosting a
contest
where you will be awarded with a chance to win a Big Apple Barbecue Block Party VIP 4-pack, including:
four pitmaster hats
four BABBP T-shirts
four bottles of Blue Smoke BBQ sauce
two $125 Bubba Fast Passes (good for 4 guests), so you can skip the lines and eat for free all weekend long!
See you there! Or if the lines are too long, I'll be hauting the pitmasters by day and eating at
Daisy May's
or RUB by night.
Photographs and logo courtesy of Time Out New York.