3 racks 3 rubs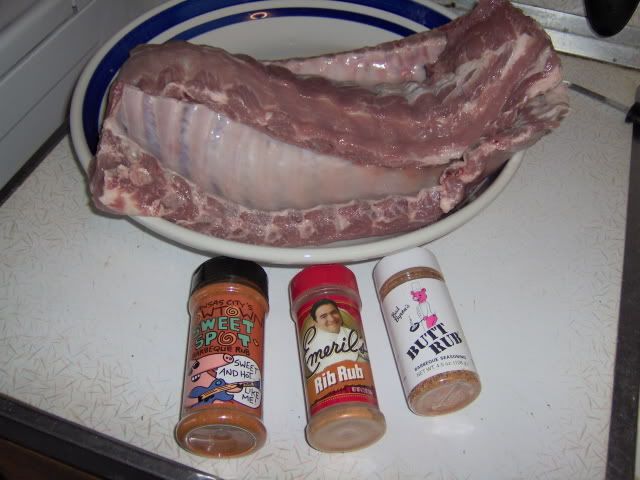 So the
cooker's
cooking in the backyard. It's staying at 242 degrees which is perfect for today's cook. Today, we're doing babyback ribs. Why babyback ribs instead of the standard spareribs? Like I mentioned, time is tight today and babybacks will cook a couple of hours quicker. We're going to cook 3 racks today, because that's what usually comes cryovaced from
Costco
. And because for my family of 4, 3 racks of babybacks is just about right -- We usually don't have any leftovers! I must say,
Costco's
got some damn good meat. I usually buy my ribs from them because they're usually much meatier then anything I can get from my butcher or local
supermarkets
.
I going to use the three rubs I talked about in a previous post, first is Bad Byron's
Butt Rub
, then Kansas City Cowtown's Sweet Spot and finally
Emeril Lagasse
's Rib Rub. As I said all of these rubs were picked up in a local
Brooklyn
supermarket, which means if I can find them, you should be able to get them as well.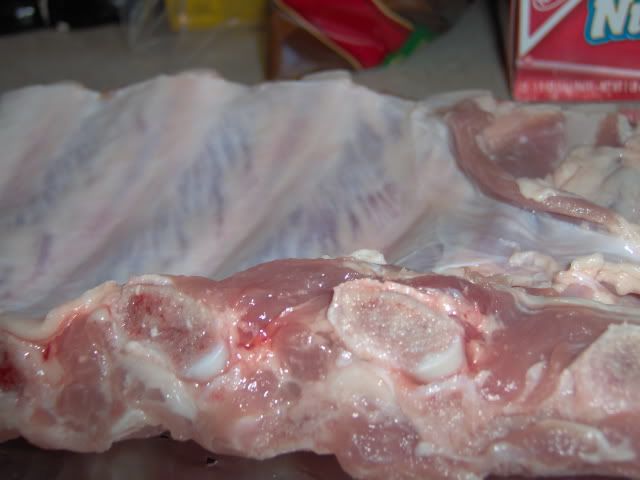 One of the nice things about babyback ribs is that there is very little prep work needed before you can rub your ribs. When I cook spareribs I'll walk you through the process of turning them into St. Louis style, but that's another post. On babyback ribs or spare ribs you'll find a layer of membrane covering the underside of the bones. This membrane is inedible and becomes tough when cooked and prevents the seasonings from reaching the meat. If you look carefully at the picture you will see a shiny thin white layer covering the bones. That's the membrane and we're going to remove it before we season the ribs. Actually removing the membrane is a favorite topic of some barbeque chefs, it's usually done in competition, but rarely in a barbecue restaurant.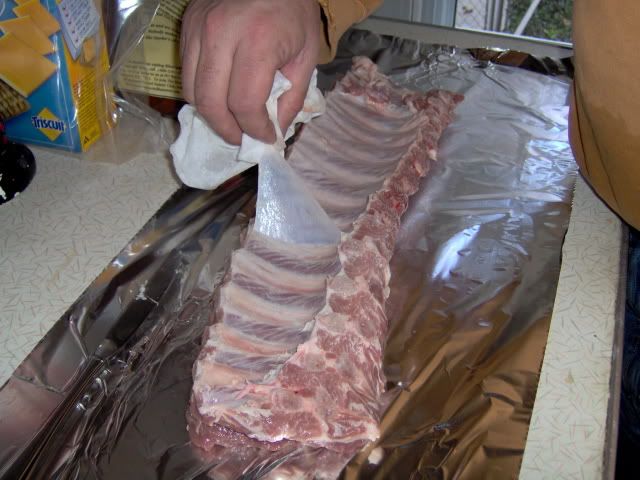 It's really easy to remove the membrane from the ribs, but it does take a little practice. Lay the ribs on a counter with the bones/membrane side facing up. Using a dull knife, work the knife between the membrane and meat. I do this at the smallest bone in the rack of ribs. Once you've got about 1/2" of membrane removed, using a paper towel to help you grip the membrane, remove it in one piece by peeling it back across the slab of ribs towards the largest bones. After some practice, it will come off easily. If it rips, just whip out that trusty dull knife and start again. No one's watching and even if they are who cares? If you buy your meat at a butcher ask him to do it. But be warned, my butcher laughed at me when I asked him to do it. He said that it was a waste of time, but changed his tune when I brought him back a cooked rack of ribs. But I digress....
Now it's time to slather and rub your ribs. See more BBQ lingo; I told you we had our own language. But it's getting late here in Brooklyn and I have some billing to do before I go to bed. We'll finish up the rib cook in my next post.