KCBS Certified Barbeque Judge's Class
The judge's class. I don't really have a lot to say about the class except that the new judges were extremely generous in their scoring, the
GrillKings
are great hosts and it was a blast. It's always fun to hang out with the other
Brethren
: Poohbah, JRick, SledNeck, Smoker, Bobequer, Rockaway Beach BBQ, James and the new Brethren whose names escapes me. I haven't laughed that much in a long long time. Too bad the food wasn't that hot.
The class was run by two Master Certified Barbeque Judges, Jerry and Linda Mullane. Great folks who always do an excellent job. But the cherry on this cake was the chance to get to know Greg and Nancee from Purple Turtle Caterers better.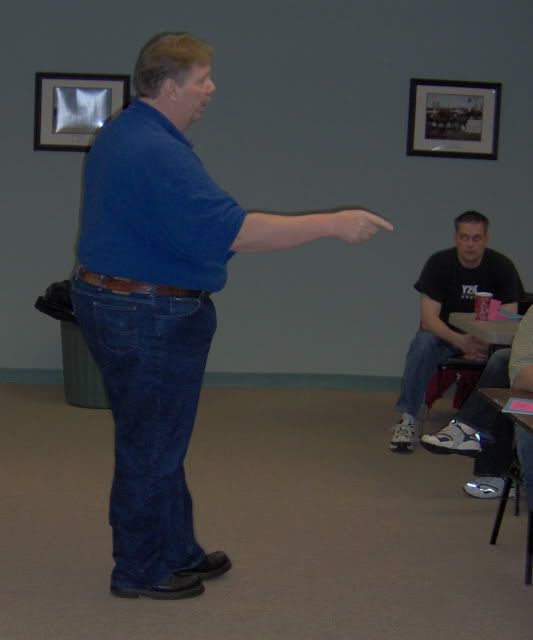 Here's a picture of Jerry Mullane teaching the class. Jerry also taught me when I became a Certified Barbecue Judge. He does these things so often he can probably do it in his sleep. He's a great instructor though, he never seems bored by the material. He also has a great ability to modify the class to fit the needs of the students and the cooks.
On the right, meet Linda Mullane and Nancee of Purple Turtle as they prep some of the boxes for the class. There were a lot of boxes that needed to be prepared. Each category had 27 boxes of food presented to the judges. So, 27 X 4 = 108 boxes. Damn that is a lot of work. Luckily we had a lot of hands for this class otherwise it would never have come off as smoothly as it did.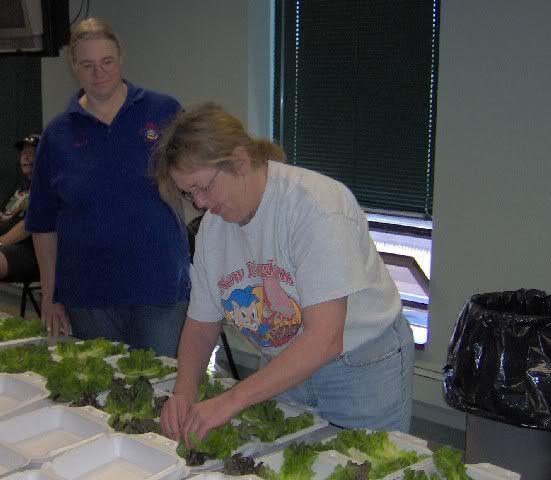 Linda is the rock behind the man. She keeps Jerry focused and does all the grunt work in putting the class together. They really make a great team. They run a BBQ restaurant outside Philadelphia that I have to try out one day.
Nancee's another old pro at these classes. Purple Turtle cooked for the last judge's class held in New Paltz. Her experience was evident as she worked. One thing I'm learning as I work with some of these pros is that I need to increase my speed when prepping and cooking. Compared to the pros, I move like a slug.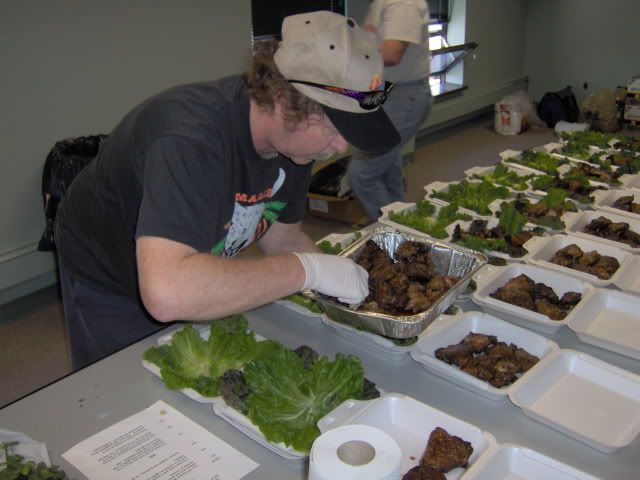 Next up is Greg from Purple Turtle. Greg gives new definition to the "strong silent type" but when he speaks he is incredibly funny. It's worth waiting for his comments. He's also a rarity in the world of barbeque -- A skinny cook!
Here he is prepping some of the chicken boxes for the judges. If you look carefully, you can see that one of the boxes of chicken does not have any lettuce. Garnish as it is called in the KCBS world.
There is currently some heated discussions among the cooks about garnish and there is a strong contingency of cooks looking to remove its use from the competition world. When I was trained as a judge, only one box was presented without garnish. At this class, there was at least one box per category that was presented that way. It looks like the anti-garnish forces are gathering strength.
Personally, I like garnish. To me, if properly used, it greatly enhances the appearance of the meat. When I saw the boxes with out garnish presented to the judges, the meat looked absolutely horrible. The box reminded me of what you would get from a cheap take out restaurant. Food just thrown in the box without any thought to eye appeal.
This judging class taught 55 people . Wow. That's a lot of new judges. It's really an impressive number considering that the class was held on Long Island which is not exactly a bastion of barbeque. It really looks like this sport is taking off in the North East.
One last comment, if you are considering competing in a KCBS sanctioned contest, go and take a judging class. What you learn will be extremely helpful in your quest for the perfect barbeque.