3 rubs 3 racks 3 steps
Ok Ok Ok, I know, I've teased you enough. Let's get down to brass tacks and finally cook these damn ribs. I last left you in the kitchen after completing the highly controversial step of skinning the ribs. (Skinning the ribs is barbeque slang for removing the membrane. See you're learning more BBQ Lingo everyday!) Now we're ready to slather and rub our meat.
Of the three rubs, I've only used
Emeril's
before. So the first thing to do is to give each rub a taste test. Before tasting the rubs, be sure and give them a good shake so that the spices are evenly dispersed in the bottle. Now I know this is gross, my daughter yells at me all the time for doing this, but the best way to taste test the rub or any dry spice is to use your finger. Lick the tip of your pinky and press it into the bottle of rub, then put your pinky in your mouth and lick off the rub; simple and effective.
Bad Byron's Butt Rub is spicy and very salty. If I had to guess, I would say that it is close to 60% salt and 35% pepper. It's not a very complex rub and needs some sweetening in my opinion. The
Kansas City Cowtown's Sweet Spot
is more complex. The first ingredient that I could taste was salt followed quickly by sugar and Worcestershire. This rub would need a little toning down. Emeril's is also sugary with a follow-up of paprika and mustard. Out of the three Emeril's Rib Rub is closest to a generic tomato based BBQ flavor.
So three racks, three rubs. Now what about the slather? What is a slather? Well a slather is a thin coating of a liquid placed on the outside of your meat to hold the rub in place. It helps moisturize your meat and aides in the creation of a bark. What's a bark? We covered that in the
BBQ Lingo
post. Pay attention class!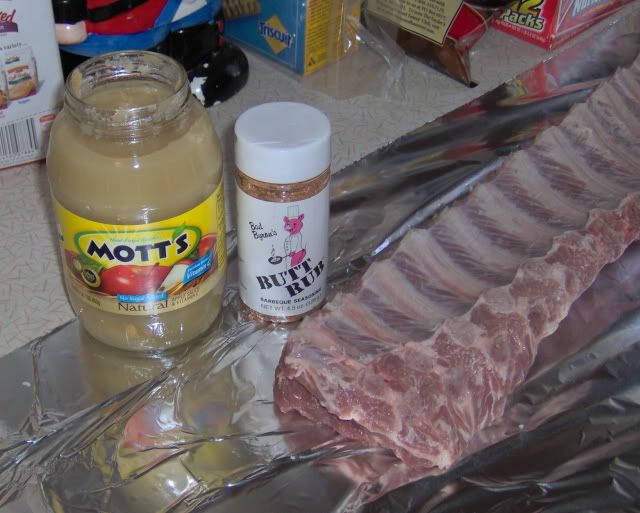 For our first rack, let's use
Bad Byron's Butt Rub
. But first the slather, Butt Rub needs a little sweetening. Let's use a slather of apple sauce. Apple sauce is one of my favorite slathers. It's sweet without being overpowering and the flavor of apples works with most barbeque seasonings. Do you notice anything about that riack of ribs? C'mon look closely. Do you see it? Yes that's right that rack hasn't been skinned yet. Don't forget it's skin, slather and rub. In that order!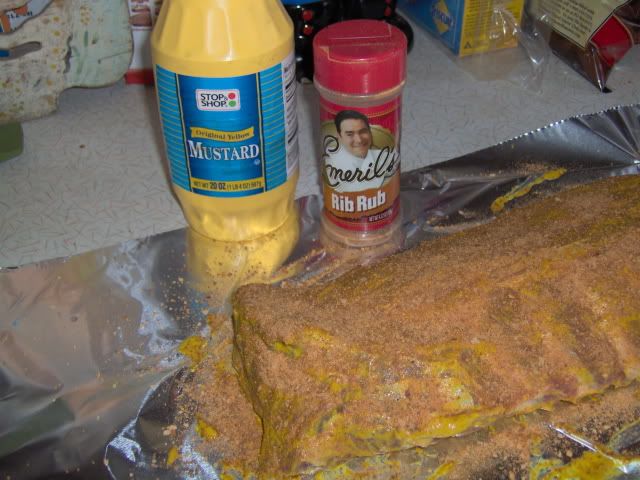 For the other two, we'll use a very traditional barbeque slather, cheap yellow mustard! Mustard you say? Yes mustard. Believe it or not you won't taste it in the final product. Actually I was a bit skeptical about this the first time I heard it too, but it works. When I was a teenager I worked in a rectory and the cook there, a wonderful old Polish lady named Madge, used to coat her pork chops with mustard before pan frying them. Let me tell you, those were some of the best pork chops I ever had. So when I heard/read about using mustard as a slather on ribs, I was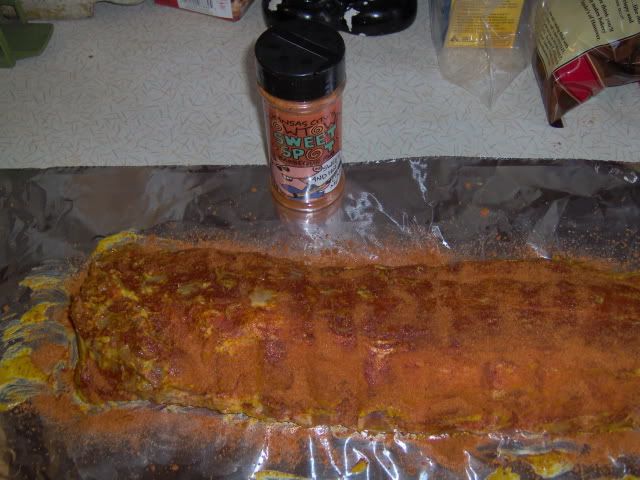 intrigued. If Madge could do it on chops, then why not ribs?
You can use whatever you want for a slather. Some people just use water, others use vinegar and still others grape jelly or cranberry sauce. It's really up to you. Be creative and have fun with it.
Dr. BBQ
in his book,
Dr. BBQ's Big-Time BBQ Cookbook
, has a whole section on slathers. So don't be limited on what you see here.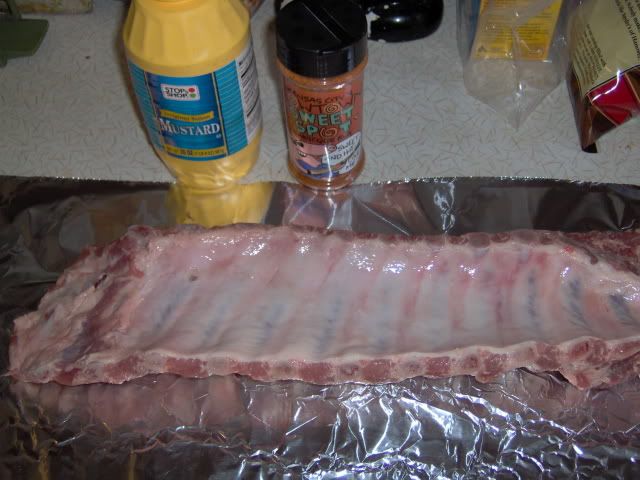 Once your meat is slathered, its time to rub. Do you actually rub the spices into the meat as the term suggests? Well, that's another debate in the BBQ world. Some claim that rubbing the spices into the meat clogs the pores. Others say it's the only way. Me – I'm more of a shaker. I figure since the ribs have already been slathered, it's just easier and neater to sprinkle a layer of rub on the meat. Besides, the pores are already clogged by the slather.
Once each rack has been slathered and rubbed it's onto the cooker. And that's were I'll leave you today. In our next post we'll talk about the cooking process and let you in on which rack was the family favorite.