BBQ Around the World
Barbecue is really an American thing. By that, I mean the traditional barbeque cooking method of taking a tough piece of meat and cooking it long and slow over a wood fire. But grilling, that's another story. Just about every culture and country has it's recipes for meat, seafood or vegetables cooked over wood or charcoal.
Here's a recipe I found at
The World Wide Gourmet
for
Kabab-e kubideh
or
Chopped Meat Kabobs
. This recipe comes from Iran, but I'm more familiar with the Turksh versions of this which I can find in about 10 different places around Sheepshead Bay. Enjoy.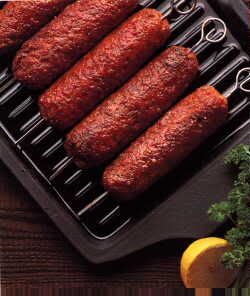 Kabab-e kubideh
Traditionally chopped lamb was used to make these brochettes; these days, ground veal is often used, or failing that, beef.
The secret is to chop the meat very finely, so that it adheres well to the skewers. Personally, I put all the ingredients into a food processor to obtain a kind of coarse puree, which makes the whole operation much simpler. For ground beef lovers, this is a very easy way to give the meat a new twist in taste and texture.
Traditionally the meat is taken off the skewer using a pita bread or a piece of flat Iranian bread. It is then sprinkled with sumac, a spice that has no real taste of its own, but which brings out the taste of the brochette wonderfully. The kabobs can be served with Iranian bread or with hot white rice into which you have melted a knob of butter.
Ingredients for 4 people
450 g finely chopped lamb, beef or veal
1 onion, minced
Salt, pepper, turmeric
1 tsp. lemon juice
1 tsp. baking soda
1 beaten egg (optional)
1 tbsp. oil
60 g breadcrumbs (optional)

Method
Combine all the ingredients (ideally, it is best to combine all the ingredients and let them stand in the refrigerator for a few hours, but this is not absolutely necessary)
divide the mixture into 12 portions
using your hands, press each portion around the skewer to form a cigar shape (see photo)
place on the grill and cook for 3-4 minutes on each side.

And just a quick word to all you mothers out there. Happy Mother's Day - I hope you have a great one.