World-Champion Brisket
As promised, here's Willingham's recipe for brisket as published in his cookbook John Willingham's World Champion Bar-B-Q....
"This recipe is for serious cookers only. The procedure is time consuming, no argument there, but if you follow the recipe exactly, you will finish in the top 10 percent in any brisket competition - unless the other guy uses the same recipe! In that case, presentation will be the winning factor because people eat with their eyes first. Taking the time to prepare this brisket proves the adage that anything worth doing is worth doing right. Remember to establish good steady heat inside the cooker. A cold brisket is a lot like a stubborn jackass, sometimes you have to hit el burro in the head with a two-by-four to get his attention. A brisket is the same about giving up its cold until it is overpowered by the initial and sustained heat that causes the pores to open, allowing the heat to escape rapidly. The most important thing to do after cooking and resting is to slice the meat across the grain into pieces about 1/4 inch thick.
Ingredients:
1 - 6 to 9 pound brisket with deckle. 1/2 cup All-Purpose Marinade - recipe below. 1/2 cup beer, cola or club soda. 3/4 cup Mild Seasoning mix - recipe below. 1/2 cup packed brown sugar.
Special Equipment:
Stiff backed boning knife, sharpened. 1 roll 16 inch wide plastic wrap. 1 roll 18 inch wide aluminum foil. Meat thermometer. Long blade carving knife, sharpened. (Gee, he recommends using sharp knives. What a concept!)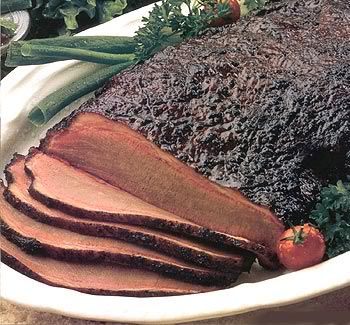 Remove all the fat and sinew from the brisket, leaving 1/4 inch of fat extending from the top of the brisket point. Cutting at a right angle to the grain, trim the corner off the brisket point. This will serve as a guide later when it's time to slice the brisket. This will also be important should you decide the direction to cut prior to pulling the brisket. Rub the meat all over with the marinade and set aside, covered for 20 minutes in a cool place.
In a bowl, combine the beer or soda, seasoning mix and brown sugar. Rub the meat all over with the mixture, massaging it in with your finger tips. Cover and refrigerate for at least 12 hours and preferably for 24 hours.
Start the cooker, allowing it to reach a temperature of 250 degrees. Let the cooker remain at that temperature for at least 30 minutes to establish and ensure a uniform thermal intertia in the cooking tower or chamber. A brisket resists giving up its massive cold, so the fire must have a strong supply of base heat to overpower and then to draw the cold from the meat. Once the dominance of the fire is established, the brisket will become a willing part of the cooking process.
Cook the brisket for 8 to 10 hours, maintaining a cooking temperature of 210 degrees. The brisket is done when the internal temperature reaches 180 to 185 degrees and when a fork slides easily in and out of the meat. Remove the brisket from the cooker, and let rest for about 10 minutes. Wrap tightly in foil and pit in the cooler part of the cooking chamber where the temperature is approximately 150 degrees. Let it rest until you are ready to serve it, or for about 1 hour. Serve it sliced against the grain, basted with any accumulated juices.
Note:
The brisket can rest in an insulated cooler that has been filled with very hot water, drained and dried. Cover the cooler with the brisket inside.
All Purpose Marinade:
Combine all ingredients. 1 cup cider vinegar. 1/2 cup freshly squeezed orange juice, un strained. 1/2 cup freshly squeezed lemon juice. 2 or 3 thin slices lemon peel. 1 tablespoon packed brown sugar. 1 tablespoon lemon pepper. 1 tablespoon freshly ground black pepper. 1 teaspoon Tabasco sauce or other hot pepper sauce. 1/2 teaspoon garlic powder.
Mild Seasoning Mix:
Combine all ingredients in a glass jar with lid. 1 tablespoon salt. 1 teaspoon freshly ground black pepper. 1 teaspoon lemon pepper. 1 teaspoon cayenne pepper. 1 teaspoon chili powder. 1 teaspoon dry mustard. 1 teaspoon dark or light brown sugar. 1/2 teaspoon garlic powder. Pinch of cinnamon. Pinch of Accent or MSG."
This post is already too long. So I'll tell you about my experience cooking this in my next post.