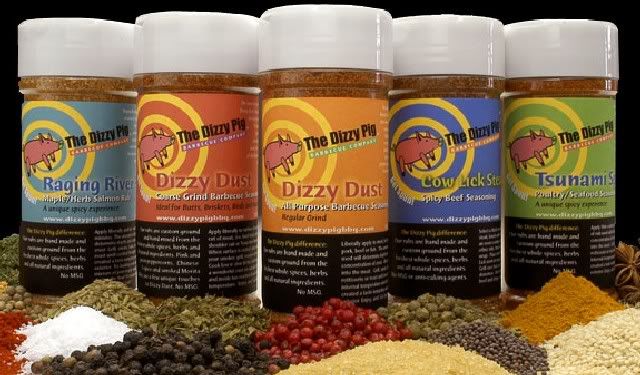 The rub. The rub is the layer of spices that is applied to the outside of the meat before it is subjected to the heat and magic of the smoke. The rub, some would argue, is the most important ingredient in barbecue. The rub helps seal the meat and creates the bark. The rub creates most of the flavor print of the food. The rub is that certain flavor that says barbeque.
One of the best rub purveyors on the internet is
The Dizzy Pig Barbecue Company
.
Dizzy Pig
began a few years back when its founders Chris and Mike met on the internet in a BBQ forum, became friends and decided to sell some rubs and cook some competition BBQ. The rest they say is history.
Dizzy Pig
offers a wide variety of rubs, from their original
Dizzy Dust
to
Red Eye Express
. Each is different and unique, but all are very very good. They only process their rubs in small batches to ensure that each bottle you get is fresh. It's evident when you open a bottle of say,
Swamp Venom
and you are hit by the aroma of the fresh herbs and spices. I haven't tried all of them yet, but I really like
Dizzy Dust
and
Raging River
.

The Dizzy Pig Barbecue Company
is a proud sponsor of Grillin' on the Bay and we thank them for their generosity. But Chris recently hit some bad luck personally as his house burned down the other day. This hasn't affected the business. Please take a moment and help out a great company and head on over to
Dizzy Pig
. Get spun -
buy some rubs
! You'll be glad you did.