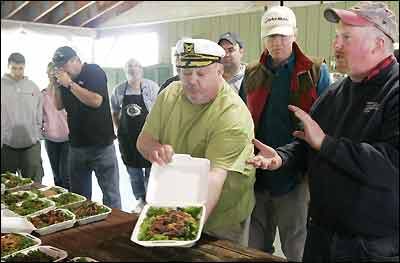 It's that time of year again; the ever lasting debate on Southern vs. Northern barbeque has reared its head once again. Every once in while I get a nasty e-mail from someone claiming to be from the South who states that no "
New Yorker
,
Yankee
or
Northerner
" is capable or will ever be capable to make true barbecue. Ignorance is such bliss.
I do concede that they might be right if they only sample the Q from some of the
restaurants
here that claim to cook BBQ. But if my Southern friends stay out of the restaurants and check out the Yankkee backyards they'd be singing a different tune.
We've got some great and
award winning Barbecue
coming from North of the
Mason-Dixon
. And I sure ain't whistling
Dixie
! Any of you readers who share my Southern friend's opinion have an open invitation to visit. I'll cook up some
real barbecue
for you anytime.
From cooking classes to contests,
The New England Barbecue Society
has events scheduled for just about every weekend this summer. I'm not sure what events I'll be at this year, but check out their
calendar here
.
The Boston Globe
has a
great article
about the most recent
barbecue cooking class
held in Maynard, Massachusetts by
NEBS
and
The Anchormen
.
Yankee Barbeque
is alive!
Photo of Ray Depot and The Anchormen courtesy of Boston.com