Thanksgiving Recipes: Michael Voltaggio's Turkey Brine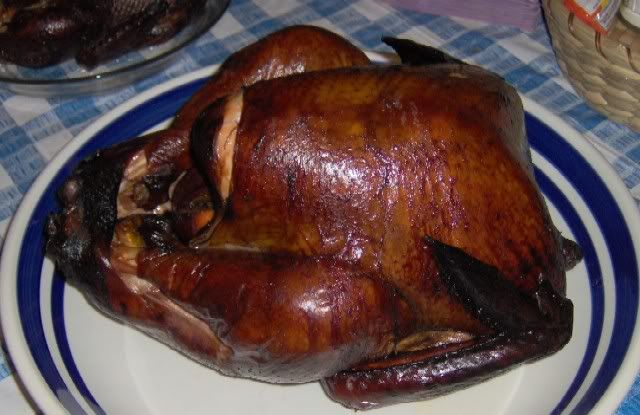 Recently I had the good fortune to stumble upon a Williams-Sonoma technique class for a "
Contemporary Thanksgiving
." While that class focused on an incredible sous vide then deep fried turkey, it did give up one technique that the outdoor cook can use for this Thanksgiving - brining. If you're going to smoke (like the bird pictured above,) fry or grill your bird it will benefit greatly from a little brine!
Brining is an age old secret technique used to add moisture and flavor to meats. I usually save my brining for poultry, but it can be used on just about any meat. OK, so brining adds moisture and flavor but how does it work? Darned if I know. There's a few theories and you can read about them on
The Virtual Weber Bullet
. Go ahead, it's a good read. I'll still be here when you get back.
So with all that contridictory information filling your head - are you ready to brine? I'll bet you are. Without further ado, here's
Michael Voltaggio
's Turkey Brine.
Ingredients:
21⁄2 gallons (10 l) water
1⁄4 cup (23g) whole cloves
1⁄4 cup (32g) peppercorns
1⁄4 cup (18g) coriander seeds
1⁄4 cup (23g) allspice berries
1⁄4 cup (41g) yellow mustard seeds
21⁄2 cups (625g) kosher salt
21⁄2 cups (545g) firmly packedlight brown sugar
2 each grapefruits, oranges,lemons and limes, halved and juiced, rinds reserved
Method:
In a large stockpot over high heat, combine the water, spices, salt and brown sugar. Bring to a boil and simmer for 5 minutes. Add the citrus juices and rinds. Refrigerate the brine until thoroughly chilled. Place the turkey into the cold brine and refrigerate for 24 hours. Make sure the turkey is full submerged in the brine.
This recipe makes enough brine for a 10 to 12lb turkey. Need more brine - increase the ingredients proportionately, based on the size of your bird. Don't just up the water content.
One last note: Don't try this on a Butterball or any other enhanced turkey. Use a natural "no added ingredients" bird. Check the label - the only ingredient should read TURKEY
Labels: barbecue, barbeque, bbq, brining, fried, michael voltaggio, recipe, smoked, technique, thanksgiving, williams-sonoma