You Ready?
So boys and girls, the holiday where we all pig out is about to hit. Are you ready? I'm thinking about what I'm planing to cook this Thanksgiving and how I can save money this year. It's an interesting conundrum as the holidays are the few days of the year where I don't take food costs into account. Well, I don't abandon those thoughts totally. I still need to keep it within reason but the reason gets a little flexible!
I've been missing the smoke lately, so I'm thumbing through my barbecue, grilling and smoking cookbooks looking for inspiration. I'm toying with the idea of preparing my entire Thanksgiving feast on the smokers, but that would probably be overkill. Some things lend themselves to the flavors of the flames and frankly some things don't. Ever have smoke Lasagna? Yuck.
Here's what I'm thinking for our feast this year. Nothing is set in stone yet, but I try to keep the day a mix of our traditional dishes and a few surprises.
For an appetizer, I'm thinking about Confetti Filled Ham Spirals based on the recipe from
Sublime Smoke
by Cheryl Alters Jamison and Bill Jamison. I haven't made these in years but they're always a big hit. I'll put up the recipe in a separate post, cause this one is going to be long enough.
Other appetizers include grilled shrimp or oyster cocktail, filberts, dried figs, assorted cheeses, chips and a good
Texas manufactured peach salsa
. Why filberts you may ask? I don't know, but my mother always put a tray off filberts and figs out at Thanksgiving and Christmas. It may be a throwback to our English heritage as The Nut Factory includes them in their
English Mix
and it's not a holiday to me without them.
I'm thinking about making a seafood soup this year, but two of our guests don't like seafood and one is still in his vegetarian mode. I may make a cheddar potato soup from
New Recipes from the Moosewood Restaurant
, but that can be a meal in itself. Who knows, we usually don't do soup, but I love soup and would love to include it as part of our meal. Maybe a simple
Cream of Mushroom Soup
would be best; it's so much lighter.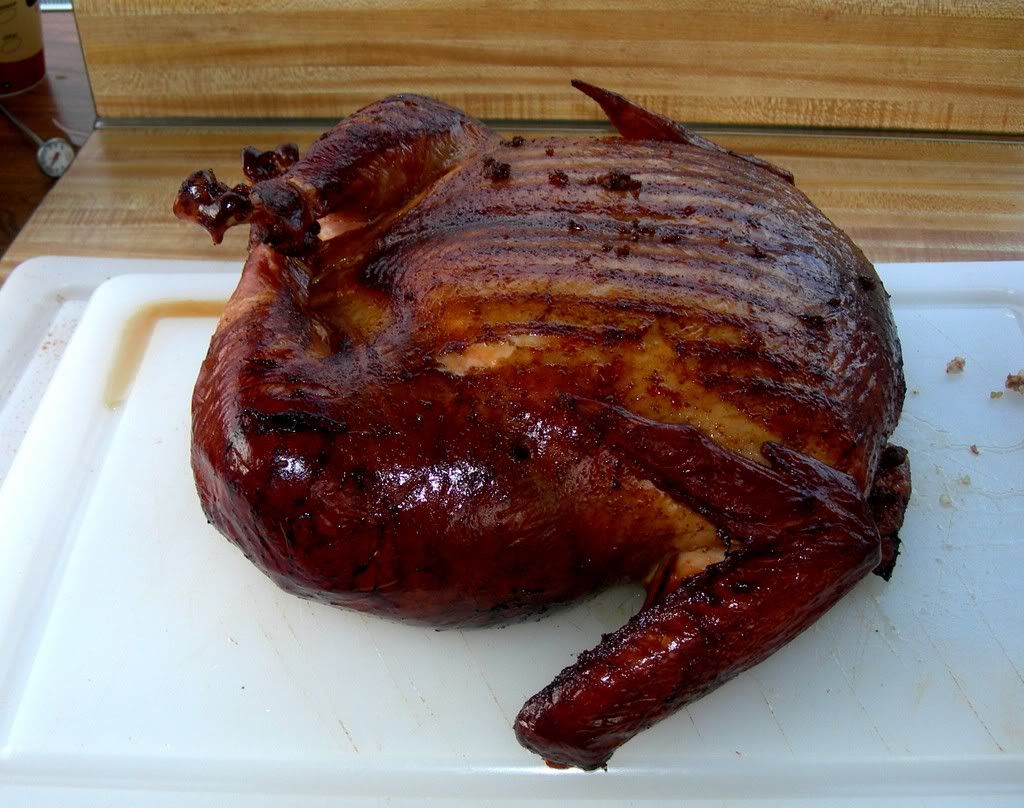 I will be making a turkey, but I haven't decided how yet. I may
brine it
, I
may not
. Maybe I should just order a
Turduken
. Oh, I don't know.
One thing that usually decides it for me, is that I prefer my turkey stuffed and a brined or smoked turkey doesn't lend itself to stuffing easily.
For side dishes, I'm looking at recipes for
Spaghetti Squash
, (which is the only squash I really like), Lemon
Leeks
, to replace our traditional
Pearl Onions in Cream Sauce
(which only my mother eats) and
Saffron
and
Ginger
Sweet Potatoes
. (Both the recipes for Lemon Leeks and Saffron and Ginger Sweet Potatoes can be found in Sublime Smoke.) Other sides will include mashed potatoes, roasted root vegetables, a green salad of some sort, green beans, sweet corn and some sort of mushrooms if I don't make the mushroom soup. (I think we've got all our colors covered!) There will be home made biscuits and other breads as well. I hope I can get through the day without any grilled TOFU.
Of course I'll be making my famous
Clove
and
Cinnamon
scented
Cranberry Sauce
. The recipe is one I created from a basic recipe found in the
Fanny Farmer Cookbook
, which I have modified and adjusted greatly over the years, so much so that it no longer holds much in common with the original. If you've never made cranberry sauce from scratch; you're doing yourself a disservice. It's easy and so much better than anything canned.
On a side note, I wonder what the technical differences are between "scented" and "flavored." I don't really know, but scented sounds so much more refined and seems to be the popular adjective for menus these days.
And finally, we'll be having desserts. I've asked my mother to make her
apple pie using a lard crust
that is just out of this world. (No, that link isn't to her recipe. Her recipe is much older.) She tells me that she's been using the same recipe since the 1940's, but I know that's not exactly true. She did abandon the lard for another shortening for a least a decade and it made a huge difference in the flavor and flakiness in the crust. Mom will also make a
pumpkin pie
for my wife and my wife will make a
cheesecake
for my son. Maybe I'll contribute some sort of baked pears.
Sounds like a plan doesn't it? I hope I remember to take pictures!
Labels: barbecue, barbeque, bbq, holidays, recipe, thanksgiving