More Meat
Well, we're at the midpoint of the
Hudson Valley Ribfest
. Chicken's in. Ribs are in. Now it's time for the pork shoulder.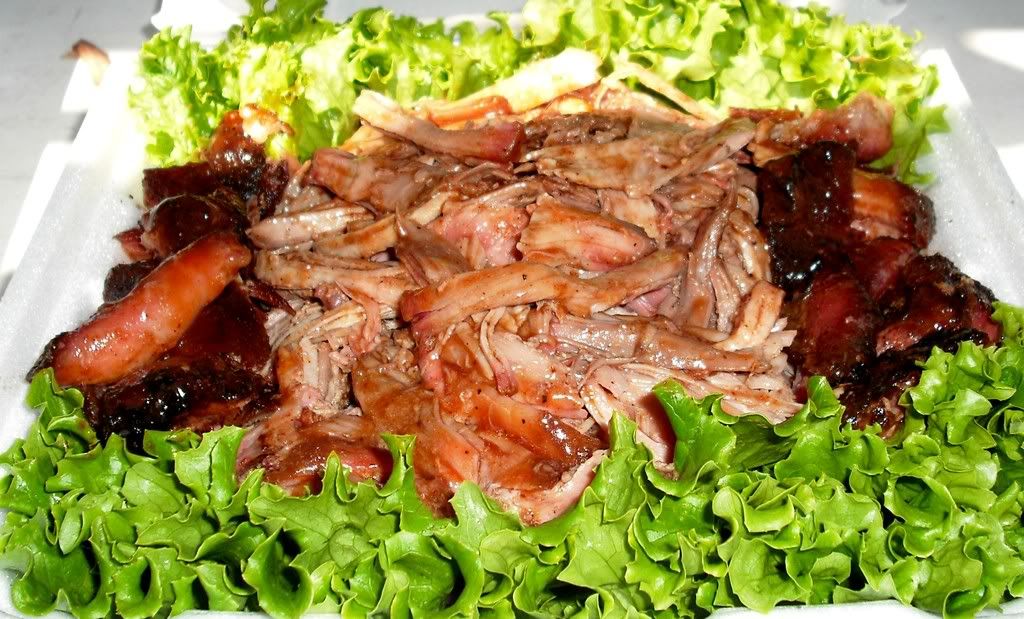 KCBS
rules allow pork to be submitted chopped, pulled, sliced, or diced as the cook sees fit, as long as there is enough meat in that box for six (6) judges. That can be as little as six threads of pulled pork to an entire shoulder.
In my experience as a judge, I've seen it all and in many cases the cooks decide to submit their pork both sliced and pulled. I've always found that to be a mistake. Again, this is just my opinion and your mileage may vary, but I've found that if the pulled pork is good, the sliced pork sucked. Now that is a little harsh, but usually one of the meat variations will be better than the other one, which in turn brings down the score. I was taught to only put your best in the box and nothing less.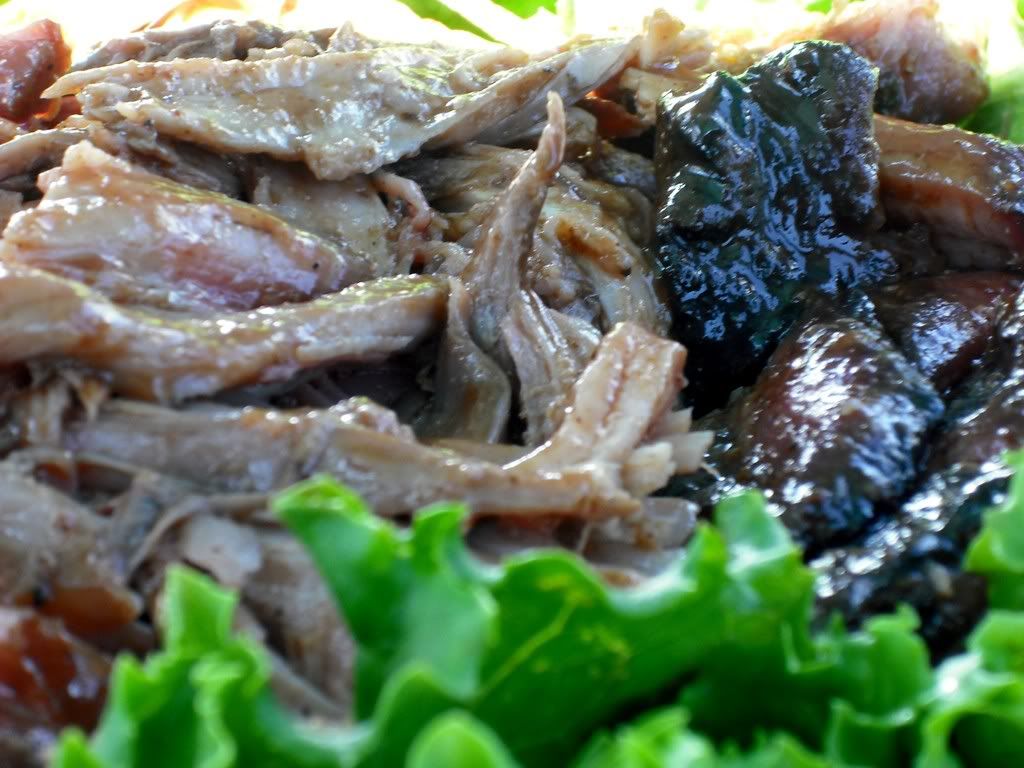 We cooked two very small bone in pork shoulders. With our delayed start on Saturday, it gave me Friday night at home to create the rubs, brines and injections that we'd use for the contest. I made my usual pork injection and decided to play a little and create a new one. Now my friend
Matt
sassed me a little about how the serious cooks don't change their tried and true recipes or techniques right before a contest, but hey, I don't do this often enough to have any tried and true recipes or techniques! Let's play!
The pork cooked over a fire of hickory and apple and sat tightly wrapped in a cooler for a couple of hours before we pulled them for presentation. My tried and true recipe pork came out flavorful but a bit dry. The new injection recipe shoulder that was rubbed with
Big Daddy's Pork Rub
came out moist and flavorful. Both were tossed with our doctored version of
Sweet Baby Ray's
and taste tested. We went with the new recipe.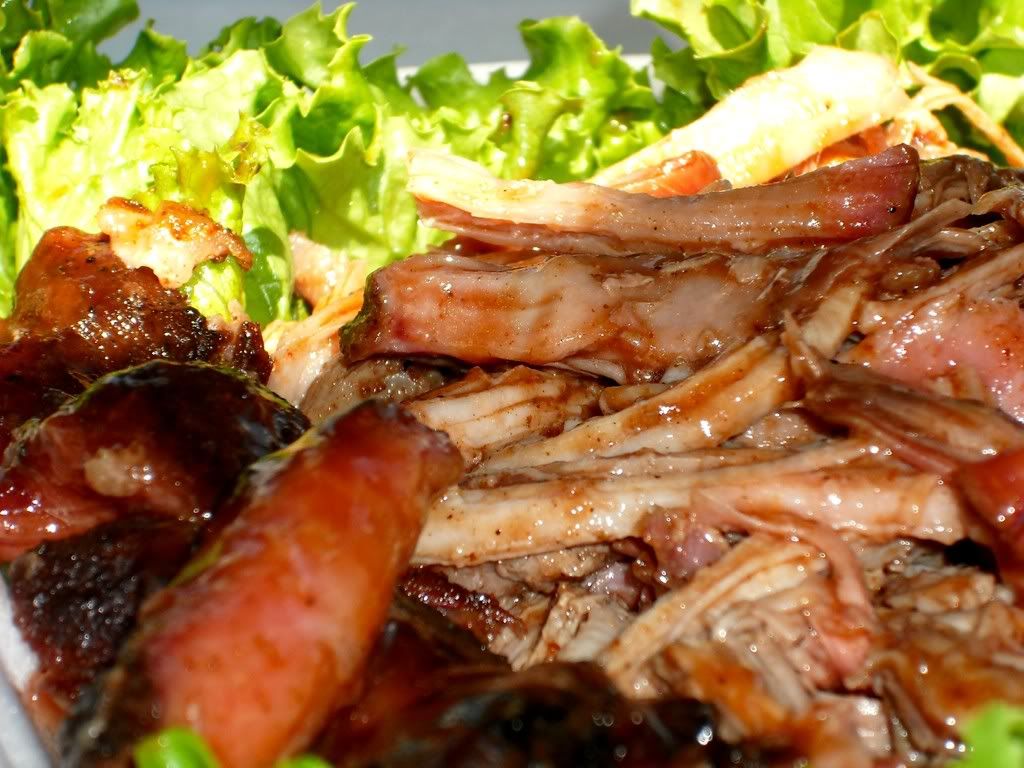 And I'm glad we did. This pork gave us our highest score in contest! 9 out of 53.
Judge's scores: 766, 877, 979, 788, 799 (Thank you whomever you were!) 788
Total points: 157.7142 which gave us 9th place. YES! iQue, the first place team's points were: 169.1428. A great showing for guy who hasn't made pulled pork in almost 6 months.
Last entry in any KCBS contest is brisket. The WhiteTrash BBQ team has a real disadvantage when it comes to the brisket category. None of us particularly like brisket. Yes, I admit it. I prefer my brisket corned thank you very much. But here's an even more shocking secret. The last time I came close to bbq brisket that wasn't bought in a restaurant was at last year's Hudson Valley Ribfest and I didn't even cook that one, my buddy Mike did. Pete tells me he's never cooked a brisket!
Even in the best of circumstances brisket will always be my Achilles heel. And this was not the best of circumstances, we only had two flats to cook. In my very limited brisket cooks, I've only made flats once and
that wasn't a sucess
. Why would I expect it to be different this time?
We cooked our brisket over an oak and charcoal fire. Brisket is notorious for drying out as soon as it's cut so we waited until the window (the ten minute turn in period) before cutting our briskets. Both flats were tough, dried out and hard to cut. One had a little more flavor than the other so we went with that one. It was hard getting six complete slices in the box without them falling apart, but we did. Instead of the putting green of parsley presentation, I created a putting green of lettuce and laid the slices out slightly overlapping each other and basted them with a light coating of our sauce.
Let's go to the judges...
767, 977, 876, 678, 867, 778 (No disrespect, but two 8's for tenderness? What box were those judges eating from because it certainly wasn't ours!)
Total points: 140.5712 which gave us 30th place. Ya gotta be kidding. 50th place should have been more like it. iQue, once again the first place team points were: 166.2858
Sorry, but there are no pictures of the brisket. We didn't have time to take any as we barely got the box turned in before the window closed.
So that's it. My experiences this year. Overall, I'm very happy with our scores. We placed better than some teams that are out there every week, got all our meat turned in, didn't embarrass ourselves and had a good time to boot. Not bad considering I hadn't cooked on my horizontal offset smoker since the last HVRF! I don't know why, but the bbq bug was dormant in WhiteTrash world this season, but it's back with a vengeance now! See you on the circuit.
Labels: barbecue, barbeque, bbq, competition, hudson valley ribfest, kcbs, nebs