Bob finishes making brisket. Finally. Sorta.
So it's about 7:00 in the morning. IN THE MORNING. Now, you may not understand that. I'm not a morning person. It's 7:00 IN THE MORNING and I've been up an hour. I'm the type that if I'm up at 7:00 in the morning, I haven't been to sleep yet. This brisket better be good.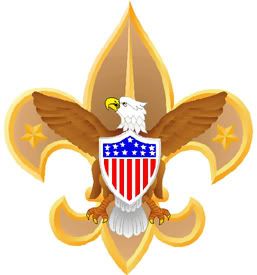 Ok - 8 to 10 hours cook time. Dinner should be ready about 4:00 pm. The fire is at about 250 degrees and holding. I know this cause I use my hand to measure the temperature. Why buy a thermometer when you can use your hand? (C'mon, it works. I learned this in the
boy scouts
. It's one of the few useful things I remember, that and how to tie a
clove hitch
. Actually I learned many useful things - some I still use so often that I forget that I learned them in the
scouts
. And, if you have a son - get him in the
scouts
. They're a great organization. But back to barbeque, cause this blog is supposed to be about barbecue.)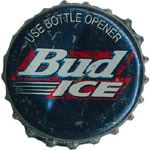 I've got the fire going in my handy dandy Weber 22 1/2" kettle. My first one, it was red. It was great. I had that kettle for at least 10 years. I built an indirect fire using the fire baskets with a water pan down the middle. In the water pan was a can of beer. I don't remember the brand, but probably Bud Ice. I like Bud Ice - it's a bitch to find now. But I digress once again. I'm having a hard time focusing tonight. I bet you didn't notice.
So the brisket's in the cooker and I have the fire good and smokey, because on top of the charcoal I put a huge amount of soaked Jack Daniel barrel wood chips. I want to keep the smoke thick and white. The more smoke the better! Now living in
Brooklyn
, there's not much space between your house and your neighbor's house - so to be neighborly, I cook the brisket on the side of the house near the sidewalk. We live on a corner. Well, today the smoke is so thick that I can't see the top of the smoker or the stop sign at the corner! Perfect. Now this was a lot more smoke then I usually used, but I wanted this to be authentic barbeque and back in 1986 all the magazines and newspapers were saying that you needed thick smoke or it wasn't any good. And I wanted this good.
So what do I do? I go in and go to bed. I need some sleep. Remember? It's 7:00 in the morning and I'm not a morning person. I think I told you that. I lay down and fall asleep. About 30 minutes later I'm awoken to the sound of sirens. Yup - New York's bravest, the
FDNY
is about to descend on my Weber kettle! The whole house is now up with my wife's 80 year old aunt and uncle freaking out, half the neighbors and me in my bathrobe on the side lawn explaining to the firemen - that this fire isn't out of control or a danger to the neighborhood. Hell - I even show them the cookbook! See? Look! I'm making World-Championship brisket. I'm doing everything by the book! After about 15 minutes the men in blue decide that everything's OK but that I need to get dressed and stay outside and watch the fire.
So I get dressed. I sit outside watching the fire. Now, I love to barbeque. And I love to watch a fire. I can sit by a campfire or fireplace for hours. But have you ever watched a Weber Kettle? It's completely enclosed - all I can see is thick white smoke coming from the vents and from where the lid meets the base. This is not exactly what I would call entertainment!
So after about an hour of cooking, I take the lid off to check the meat. The rush of smoke is so thick that I can't see. I can't breathe and I fall back and drop the lid. After about 10 minutes with the lid off the smoke dies down and I can finally check the meat. It's covered in black soot. The wood chips have now completely burned off and I can see that I need to add more charcoal and wood chips. Don't I ever learn?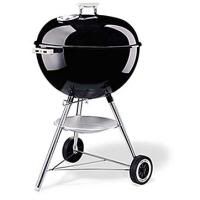 So I refuel the cooker and baste the meat with some BBQ sauce, probably
Kraft
or
Open Pit
. I put the cover back on and watch the smoke continue to rise. People wander by on the street and ask what's burning. Real funny. Not. This hourly routine continues till about noon, when my friends the fire department return. I couldn't believe it. Apparently one of my neighbors saw the smoke and called them. You would think that the neighbor would have left his/her house and checked on the fire, but no - no one came out this time. The funny thing about the FDNY is you don't always get the same house responding to fires. This was a whole new bunch of firemen that I had to contend with. I, once again explain that I'm making world championship brisket. See the book? At least this time I wasn't in my bathrobe, so I looked normal on the surface. Sort of anyway.
The basting, refueling the fire continues until our friends arrive at 5:00. Dinner was supposed to be ready at 4:00 - but the meat just wasn't feeling done. But at 5:00pm everyone was hungry. I cut a slice off one of the briskets - it was well done. It was that grey beef color so I took them off and sliced them. It smelled like smoke. I was happy.
But - did I let the meat rest before slicing? No. Like I said everyone was hungry. Was there any juice coming out of the meat? No. Was it edible? No. We went to
Pizza Bowl
that night.