March Madness: Rachael Ray
Dinner tonight was inspired by Rachael Ray. I'm really tired of her as she seems to be everywhere, but her
Everyday with Rachael Ray
magazine is pretty good. I really like the way it's laid out with recipes and shopping lists to get you through the week. I should be so organized.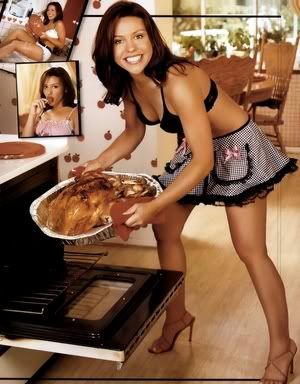 The February issue of
Everyday with Rachael Ray
had a
recipe
for
Nacho Spuds
that looked interesting. Basically it was taking nacho toppings and putting them on roasted potato slices. That looked good, but I decided to take the same ingredients and turn it into Tex-Mex inspired
Shepherd's Pie
.
I took 2 1/2 lbs of potatoes, peeled them and boiled them in salted water with 2 cloves of minced garlic until soft. I mashed the potatoes with butter, a little milk and added some shredded cheddar cheese.
As the potatoes were cooking I browned one pound of ground beef, drained it and added a pack of taco seasoning, some additional cumin, pepper and "Mexican" seasoning, a drained can of diced tomatoes, a drained can of black beans and about a cup of water. I let that boil then simmer to the consistency I wanted as the potatoes cooked.
Once the potatoes were all mashed up, I put the meat into the bottom of a casserole, topped it with the potatoes and more shredded cheese and baked it at 350 degrees until the cheese was melted and golden brown.
Damn. No leftovers. The photograph above really is Rachael and I think it originally appeared in FHM, but I got it from
The Hollywood Gossip
.
Labels: march madness, rachael ray, recipe