Cooking For Myself
Frittata
From
Wikipedia
, the free encyclopedia
A
frittata
is a type of
Italian
omelette
that frequently features fillings such as meats, cheeses, and vegetables. Like a traditional French omelette, a frittata is prepared in a skillet. However, whereas an omelette is cooked on a stovetop and served folded, a frittata is first partially cooked on a stovetop but then finished under the grill (broiler) and served
open-faced
.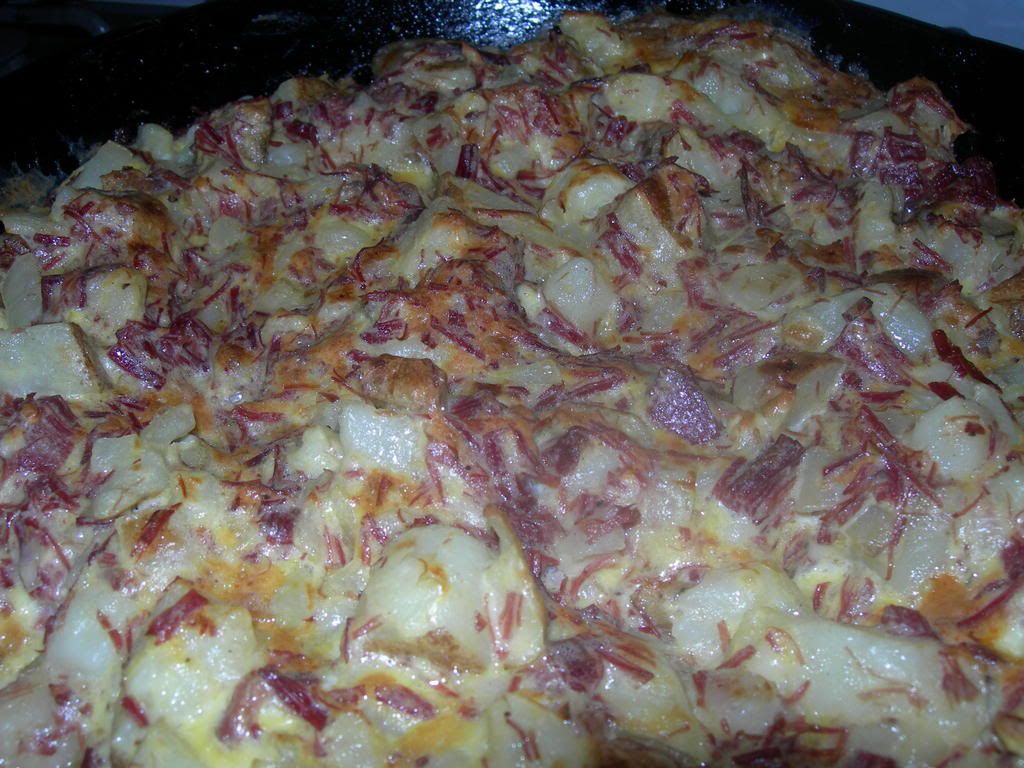 So, why do I tell you about a frittata? Because that's what's in the picture. A corned beef hash frittata.
A little while ago, I discovered that the family wouldn't be home for dinner. This gave me a chance to make myself a traditional
New England Boiled Dinner
. What's a traditional
New England Boiled Dinner
you ask? Well, that's another post, but it does contain corned beef and potatoes.
The kids don't particularly like boiled corned beef, but I do, so I jumped at the chance to use up a piece of corned beef that I had in the freezer that I had planned on making into pastrami. So I made my dinner and enjoyed it in a rare silent evening at home. Now I don't know about you, but my mother and grand mother always told me that when you make a
New England Boiled Dinner
, you should always make enough to have leftovers. So I planned accordingly.
As luck would have it, the family would be out again 2 days later and I could take my leftovers and make hash. I love hash and to be honest, I often make corned beef just to have a meal of corned beef hash. I had my plans set. Don't get me wrong, I love my wife and kids, but sometimes it's great to be able to cook to my tastes exclusively and not worry about pleasing them.
So I diced up an onion or two, and sautéed them in some butter and olive oil adding some minced garlic just before the onions got translucent. I took the leftover meat and potatoes and roughly chopped them up. I was just about to add the meat an potatoes to the pan, when my son came home asking for dinner. I told him he was on his own, or he could have some hash. He griped about how he didn't like corned beef and that he'd make something later.
Then the wife and daughter appeared asking the same question. (I thought I had the night to myself!) They got the same answer, but said they'd eat it. But now I was looking at my ingredients. Would I have enough hash to feed four people? Nope. I needed another plan.
Then it hit me - make a frittata out of it. So I put the meat and potatoes in the pan with the onion and tossed them around just enough to heat them through. I took eight eggs and scrambled them and poured them over the meat. I cooked this on the stove until the eggs were almost set. Taking my large cast iron frying pan and placing it under the broiler, I let the oven finish off the dish.
The whole family devoured this dish. Even my son. From now on, I think I'll be making my hash into frittatas every time.