BBQ Recipes: Bruce's Brisket
This recipe comes to us from
Extreme Barbecue
which I reviewed yesterday. If you remember in my review I mentioned that this book had a couple of techniques I've never encountered before. Bruce's Brisket is one of those recipes. I'm not going to tell you what makes this technique unique, I'll let you discover that for yourself. But I plan on trying this out soon. Take it away Bruce...
Most recipes for smoked meats require them to be wrapped in aluminum foil at some point during the cooking. This recipe calls for red butcher paper, which Bruce Schatte says is the secret to the moistness and flavor of his brisket - a cut of meat that is notoriously difficult to tenderize. (Light colored paper doesn't work as well, he says, because it reflects the heat off the meat.) "Foil seals the steam inside and boils the brisket, and it's like mush," says Bruce. "The paper breathes, and it doesn't trap all the hot steam and oil. It helps you not ruin a $25 to $30 piece of meat."
1/2 cup salt
1/4 cup freshly ground pepper
1/4 cup cayenne pepper
1/4 cup garlic powder
1 beef brisket - about 10 pounds
Build a fire in a smoker/grill for indirect heat. Maintain a temperature of 350 degrees.
Sprinkle the salt, black pepper, cayenne pepper and garlic powder on both sides of the brisket. Sprinkle with just enough water to moisten the seasoning and run it into the meat.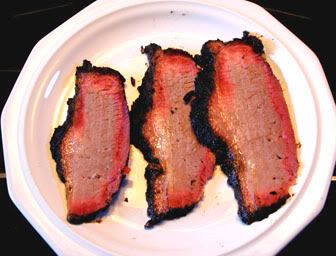 Place the brisket, fat side up, in the smoker on the side opposite the coals. Cook for 1 1/2 hours or until the fat starts to bubble. Put on a thick pair or rubber gloves and turn the meat over. Cook for another 1 1/2 hours, or until the meat is brown and sizzling.
Transfer the brisket to a 3-by-6 foot sheet of red butcher paper, placing it crosswise 1 1/2 feet from the short end of the paper. Wrap the end of the paper over the brisket and fold it tightly. Roll the brisket up in the paper, continuing to pull the paper tightly over it, and finish with the fat side up.
Place the wrapped brisket back in the smoker, again fat side up (This will allow the juice from the fat to spread throughout the rest of the meat) with the thick end of the brisket facing the coals. Cook for 5 more hours, allowing the temperature of the pit to gradually drop to 250 degrees as the fire get lower.
Remove the brisket when the meat is so tender it gives when you poke it with a finger. Unwrap the paper, cut the brisket into 1/4" thick slices (cut it againist the grain, please!) and serve.
Labels: barbecue, barbeque, bbq, brisket, cookbooks, extreme barbecue, recipe