BBQ Recipes: Pork Tenderloin with Laab Seasonings
I must eat a lot of Thai food. One of my clients asked me if I had some "Oriental blood" in me because he noticed that when I'm in their office I usually order Thai or Chinese lunches. Now, I'm not Asian, but I do enjoy the flavors of Thai food immensely. I just wish they'd ditch the cucumbers and broccoli.
This recipe for Pork Tenderloin with Laab Sesonings came into my in-box this morning from the fine folks at
A Taste of Thai
. It sounds great and actually uses a grill!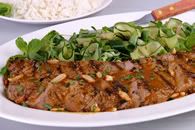 Pork Tenderloin with Laab Seasonings
Yield: 4 servings
Time: 20 minutes to assemble, 1 hour to marinate, 6 minutes to grill per side
The marinade in this recipe is reminiscent of the salty, sour and citrus flavors found in Thailand's popular laab, a dish of ground pork or beef. We combined these complimentary flavors to make the most succulent grilled pork. The marinade is cooked down and poured over the meat for the 'pièce de résistance'.
INGREDIENTS
3 tablespoons oil
1 bunch scallions
1 tablespoon (each), garlic and ginger
2 tablespoons Fish Sauce
1 tablespoon Red Curry Paste
1 tablespoon brown sugar
1/2 cup lime juice, divided
1 bunch mint, chopped
1½ -2 pound pork tenderloin
Optional: 1/2 cup chopped peanuts
DIRECTIONS
In a medium skillet heat oil over a medium-high heat. Chop scallions and add white parts to skillet, reserving green parts. Add garlic and ginger. Stirring, cook until vegetables start to soften. Add Fish Sauce, Curry Paste and brown sugar. Stirring, cook until curry is dissolved and fragrant. Cool ingredients.
Add 1/2 cup mint (reserving remains for garnish) and 1/4 cup of lime juice to curry mixture. Stir well and pour into zip lock gallon size plastic bag.
With a sharp knife, butterfly pork by slicing lengthwise down center, cutting three quarters of the way through meat. Open like a book. Add meat to plastic bag and cover all sides with marinade. Squeeze out air and lay flat in refrigerator. Marinate for one hour.
Preheat grill to medium high and oil grates. Grill 6 minutes per side or until meat registers 150 degrees on a meat thermometer (pork can be slightly pink). Meanwhile squeeze marinade from plastic bag into a small saucepan. Add remaining 1/4 cup lime juice and bring to a boil. Turn down to a simmer and cook 5 minutes. Strain through a fine sieve and reserve sauce.
Slice tenderloin on a diagonal and pour reserved sauce over meat. Sprinkle with remaining mint and peanuts. Jasmine rice and cucumber salad nicely compliment this dish.