Leftovers
Here's a new one. A recipe for a non-barbecue meal, brought to you by the fine folks at WhiteTrash BBQ and
The American Lamb Board
.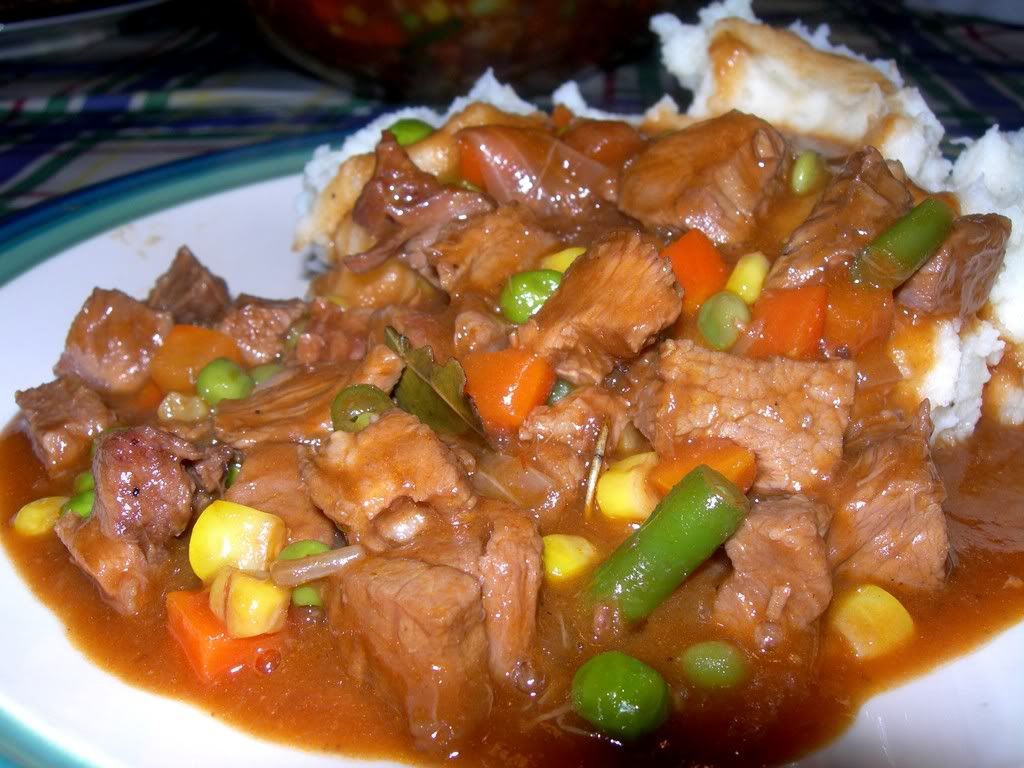 In case you didn't know,
The American Lamb Board
graciously sponsored our team and provided us with a boat load of lamb to cook at The Hudson Valley Ribfest. We cooked almost all of it but for some reason after the event we still had a leg of lamb uncooked. I can't imagine how we missed it. I thought we had cooked it all. Hell, we fed the public lamb for a good 2 hours on Saturday!
I was taught never to waste food so I brought the leg home and roasted the lamb after seasoning it with a paste of butter, rosemary and garlic. Just like Grandma used to make. It makes a delicious dinner, but there's always leftovers. And like I said, you can't waste food, so what's a poor boy to do besides play in a rock and roll band? Make Shepard's Pie - that's what.
I call this deconstructed Shepard's Pie. I was going to make the real thing, but frankly it was just too hot in Brooklyn today, so deconstructed Shepard's Pie was born. I wasn't turning on the oven for anything! Have fun.
Ingredients:
Left over lamb meat cubed and trimmed of all fat. Try to keep all the spices on the meat.
2 onions sliced
Red wine
1 tablespoon of tomato paste
1 tablespoon of sugar
4 tablespoons of butter
1 tablespoon olive oil
4 tablespoons of flour

2 cans beef broth
2 beef bullion cubes
Shot or two of Worcestershire Sauce
1 package frozen mixed vegetables
2 bay leaves
Salt and pepper to taste
Cooking instructions:
In large dutch oven, melt butter with the olive oil.

In the butter and oil, sweat the onions until tender.

Sprinkle the sugar over the onions and caramelize over low heat.

When the onions are brown, add the tomato paste, browning it lightly.

Sprinkle flour over entire mixture, stirring constantly to make a roux. Cook roux for about 2 minutes until all flour is cooked and incorporated in the mixture.

Deglaze pan with some red wine. (I used Merlot because we had it open)

Stir in beef broth. Add bullion cubes and bring to a boil. Add water if necessary to completely cover the meat. Don't let it boil too long, or your meat will get tough.

Once mixture comes to a boil, add bay leaves, Worcestershire sauce

Reduce heat to simmer.
Simmer for about 1/2 hour or longer. This can stay on the stove all day over a low heat.
About 5 minutes before you plan on serving, add package of mixed vegetables. Raise heat to bring mixture back to a simmer. Cook for 5 minutes or until vegetables are cooked through.

Check for salt and pepper and adjust seasonings as necessary.
Serve on bed of mashed potatoes.

If you make this, please feel free to add or subtract as you see fit. And be judicious on the measurements. I don't measure anything when I cook. Everything is by eye, feel and taste.
Labels: american, american lamb board, lamb, recipe, shepard pie