BBQ Equipment: Brush Hawg
A couple of posts ago, I mentioned that I had received a goodie box of grilling accessories from
Charbroil
. I've already reviewed the
Hedge Hawg
and now I'm moving on to the
Brush Hawg
.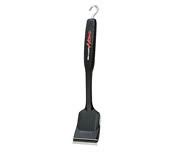 I don't know about you, but I don't like cleaning my grill. After cooking, I usually remove the meat and let the grill sit, dirty and festering until my next cook. What usually happens is that the meat juices, sauces, sugars and spices are burnt to a crisp by the time I return to the cooker.
When I'm ready for the next cook, I light a fire in the cooker, knock the big stuff off the grill and let it heat up with the fire. Just before the meat hits the grill, I hit it with a brush cleaning off any remaining food nasties.
While this is an effective way to clean the grill, it's hard on the brushes. It's hard on the cook too, since you're cleaning a hot grill in a hot cooker. But its not so hard on the Brush Hawg. Like it's little brother the Hedge Hawg, this brush can clean. I guess that's due to the cleaning heads on both brushes having "maximum count stainless steel bristles" whatever that means.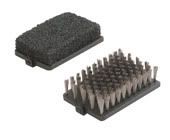 Unlike some of the cheaper brushes on the market, this brush has a nice thick handle that stands up to elbow grease as you clean. It also has multiple blade scrappers, one of which arrived bent on my brush, and a convenient hook for hanging or to my surprise, grill lifting. A very nice feature is that the brush heads are replaceable.
The Brush Hawg retails for $ 12.99 and is
available from Home Depot®, Sears®, Kmart®, GrillLovers.com®
Labels: barbecue, barbeque, bbq, charbroil, equipment, gadgets, grilling