BBQ Equipment: The HedgeHawg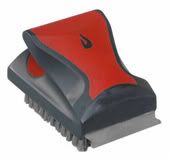 It's been a good week here at WhiteTrash BBQ. Not only did the lamb find it's way to my grill, but my friends over at
Charbroil
sent a huge care package of barbeque tools and accessories for me to try out. There were so many toys in the package that this boy's gonna be busy for a long long time.
The first piece of equipment I used was the
HedgeHawg
. I first saw this little brush last October at
Charbroil's product roll out in Bryant Park
and I didn't think much of it. I was told that it was designed for a woman's hand and I openly questioned how often a woman cleans a grill. I won't tell you what happened after that, but it wasn't pretty.
I used the HedgeHawg to clean the grates of the grill before cooking the lamb on Saturday. I tell you, this little brush can clean! Most grill brushes that I've used in the past don't last more than one or two uses, but after the first use and a rinse under some running water this brush still seemed brand new.
One great feature is that the pads of this brush are replaceable with either steel bristles or nylon scrubber pads. A big drawback to the HedgeHawg is that it does not have a long handle so it can not be used on a hot grill or over a live fire, but Charbroil has an answer to that which I will reveal in another post.
So do yourself and your grill a favor, go buy a HedgeHawg. They're available at
Target
and
Grill Lovers
. Suggested retail price is $7.99.
Labels: barbecue, barbeque, bbq, charbroil, equipment, grilling