BBQ Equipment: Char-Broil's TEC Grills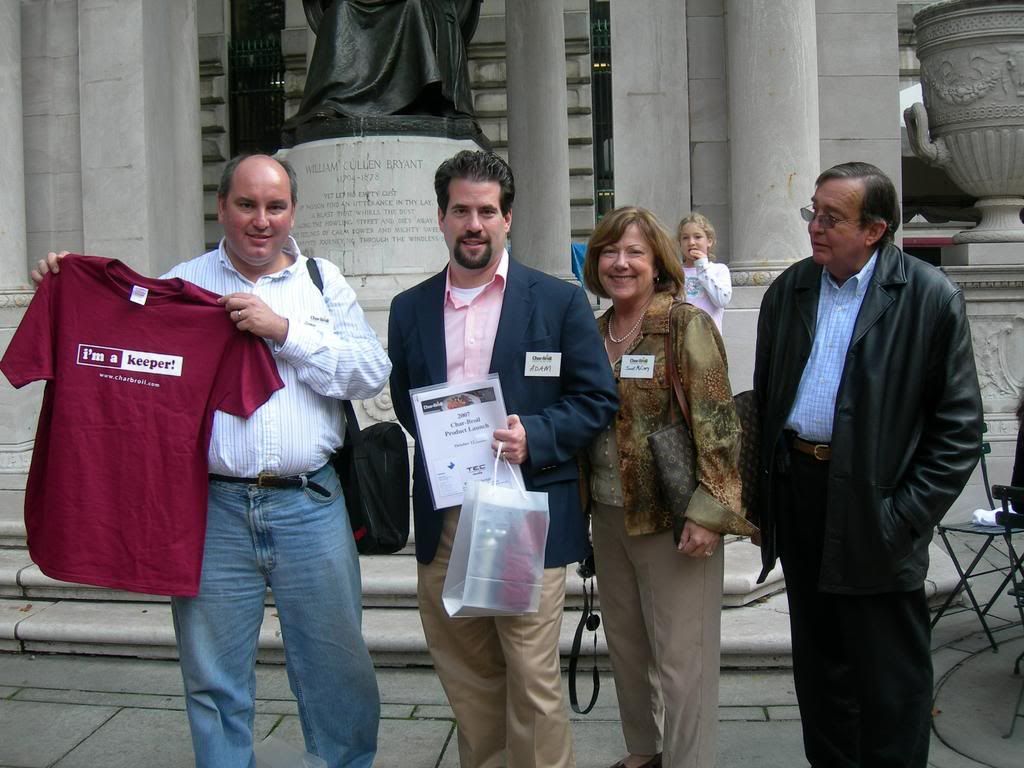 You might remember that back in October, which seems like yesterday, I attended
Charbroil's
2007 product roll-out in Bryant Park, New York. It was a beautiful day, and I got to meet some new friends including
Adam
from
Men In Aprons
and the fine team from
The BBQ General
,
Wiley
and his lovely wife
Janet
, while we all poked, proded and kicked the tires of Charbroil's latest and greatest equipment.
I've already talked about their new quick light charcoal, grill cleaners, smart probe thermometers, and the double door smoker, bbq and grill (yeah, the name still sucks, and I owe you a review from my cooking experiences on it); but the real star of the show was the new line line of
Charbroil's TEC gas grills.
Now when it comes to barbeque, I'm a purist at heart. I still like building a fire from wood and charcoal. But I am also a realist. I've accepted various levels of technology as cooking tools if they truly make my life easier. I've never bought a gas grill and always said that I never would, but the new
TEC grills
are making me question that stance.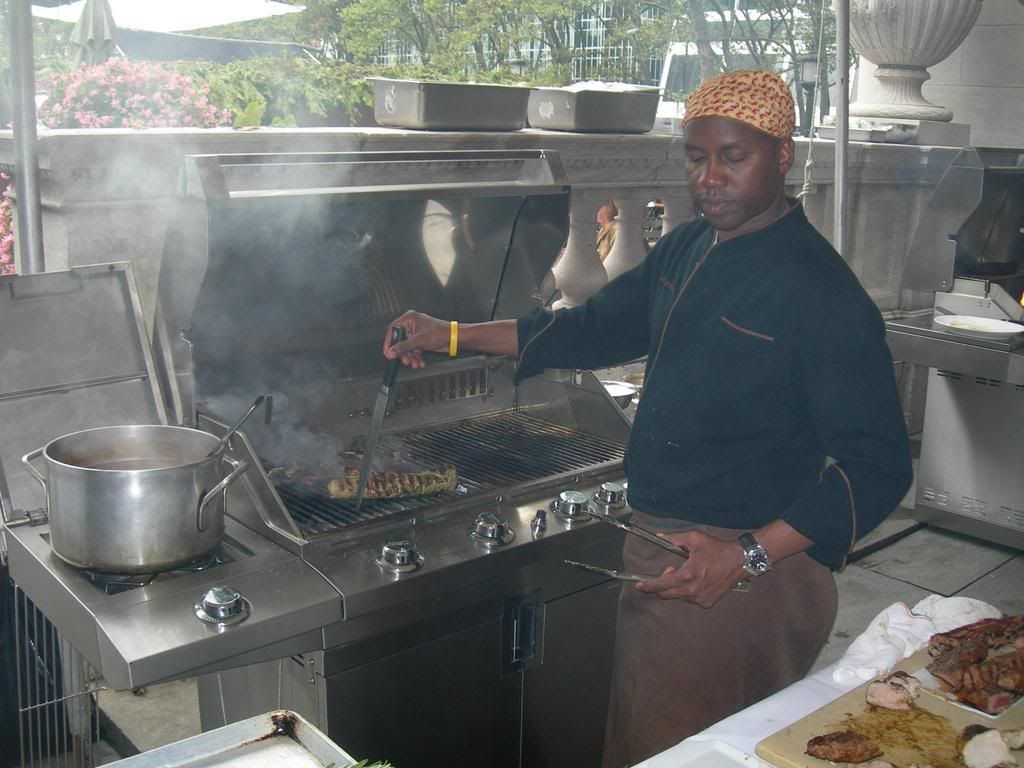 Why? Well, one reason is that I've come to understand the differences between grilling and barbecue. If you read this blog you should know what I mean by now. If not, I'll save that for another day. Different cooking methods require different equipment.
For grilling, these new grills look like they could bring me over to the gasser's camp for an extended stay. Talking with the award winning chef
Marvin Woods
who prepared our meal, I could tell that he was impressed with the grill. His passion about the features and ease of use sold me on this very powerful grill.
Take a look at these specs for the four burner grill...
CHAR-BROIL FOUR BURNER GRILL
Model Number 4632684 07
Lowe's item number 242337
Duel Fuel equipped, LP or Natural Gas
BTU's – 48,000 main, 13,000 side burner, 8,000 rotisserie
Two TEC burners 2-brass tube burners
Total cooking surface is 900sq in
Total primary cooking surface is 660sq in
Secondary cooking surface is 240sq in
Constructed with 304-grade stainless steel
Charbroil also makes a three burner edition that's just as impressive.
The
TEC infrared technology
was completely foreign to me before I looked at these grills, but basically it will provide extremely high heat without allowing enough oxygen between the grill and the meat to cause flare-ups. In layman's terms, that means no more burnt food! Whoo Hoo!
Take some time and visit
Charbroil's new website
for the
TEC grills
. They get into all the details about the construction, design and use of the grills with much more detail than I can here.
Unfortunately, you can't go out and buy one of these marvels for Christmas. They'll be available at
Lowe's
in the early Spring 2007. I'm looking forward to it.
EDIT::: NOW WAIT A MINUTE! You can buy these grills for Christmas! I just got this in my email.....
These grills are actually available right now at select Lowe's stores in certain markets, most of which are year-round grilling hot spots. So it's not too late for a last minute Christmas present.
Select Lowe's stores in the following states now carry the Char-Broil TEC Series:
Alabama
Arizona
California
Florida
Georgia
Hawaii
Louisiana
Mississippi
Nevada
New Mexico
Texas
South Carolina
Utah