Post 500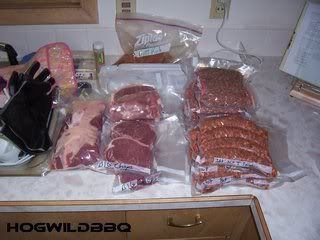 Wow, this snuck up on me. I knew it was coming and was planning on writing a deep philosophical diatribe about blogging, barbecue and life for post 500, but alas, it's not to be.
Instead I'm offering a tip of the hat to the fine folks over at
Hogwild BBQ
.
Hogwild
is a great new blog all about backyard barbeque. Just take a look at his picture of a recent meat run of his. Anyone's who's buying and cooking that much meat is a friend of mine!
Be sure to check out
Hogwild BBQ
. It's a great read from the backyard cooker's perspective.
And while you're surfing the net, take a look at
Get Your Grill On
. Get Your Grill On is a compendium of blogs and websites dedicated to the art of outdoor cooking. If you're into barbeque, grilling, cowboy cooking or dutch oven cooking you'll find something intersting to read at
Get Your Grill On
.
And if you'd like to join the staff of fine writers at Get Your Grill On, drop me a note at
BBQWhiteTrash
. The pay's not so great, but it sure is fun.
Labels: backyard, barbecue, barbeque, bbq, cowboy cooking, dutch oven cooking, grilling