Grillin' On The Bay - The Beginings
I've often been asked about the origins of
Grillin' On The Bay
. Why a barbecue contest in New York City? Why in Brooklyn? Why on the bay? Well, it's a complicated story and today I will tell you. Settle down now, cozy up under your
snuggie
and get comfortable. It's an long read.
It was a dark and stormy night. A night perfect for barbecue. Rain and sleet teasing the flames whilst the winds whipped the smoke into dense clouds. It was one of those nights that separates the men from the boys. Only the men and women who love the Que and party at the altars of Bacchus and Vulcan would brave such a night to stoke the flames while preparing perfectly cooked food for their deserving and hungry families.
There I stood, manipulating the flames and dominating the fire to my will to perfectly tease the flavor out of a chicken that had willing sacrificed itself to the gods of fire, while a shadowy figure called to me from down the alley.
"You - you who grill on the bay," he called.
"Huh?" I answered. "Keep walking Bud. There's nothing for you to see here."
"You, mortal - the gods have been aroused by the sweet aroma of your burnt offerings."
"Burnt? Fuggehtabouit! Ya stupid bastard. What the hell are you talking about. Get the F--- (substitute the queen mother of dirty words here) outta here ya bum. I ain't no amateur. I don't burn my food," I replied angrily.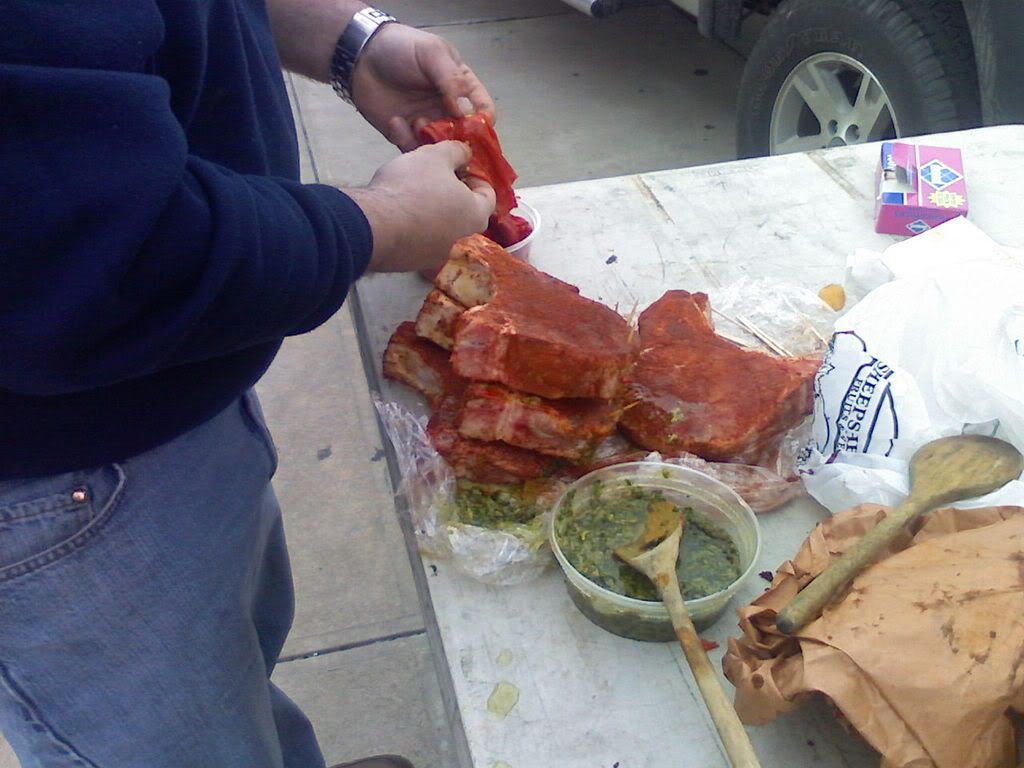 At that the figure was immediately engulfed in smoke and flame of such colors I had never seen on earth and its voice grew both in volume and depth. "Do not disrespect that which you do not understand," he bellowed while huge flames leaped out of my fire box.
"Thou has angered the gods of smoke and flame. I demand a sacrifice to amend your transgression."
"Look bud - I already told ya - Get the f--- outta here! I don't got no food for you. This ain't some whitetrash bumbf--- town. You're in Brooklyn and we don't take no shit from no one. You're all cute with the smoke and mirrors and shit, but get the f--- outta here before I grill your ass." I yelled back in as menacing Brooklynese I could muster.
Enraged it grew in size until it blocked the sky transforming into huge column of smoke and fire. I dropped my tongs and stood in awe. Holy shit - was this thing for real?
"Thou hast offended us greatly," its voice roared. "I command you to offer a sacrifice. On the last Saturday of March from this night forward thou shall gather like minded mortals to this site where you and your brethren (no - not that brethren - though they are always welcome) will offer a minimum of four species of burnt offerings to appease us and atone for your sin."
"You have been condemned to grill on the bay until our anger is appeased," it commanded. And just like that it was gone. My fire was out and my chicken burnt to ashes. "Sonofabitch - I guess he did get his burnt offering after all." I stood there looking at the remnants of what should have been a tasty meal and pondered what I had experienced. Could this have been real?
As I walked back into the garage to get some more wood to build a new fire, it hit me. "New York is too great a city to not have a barbecue contest." "Why not gather on the last Saturday of March and cook?"
That photo above is some of the "burnt offerings" from
Grillin' On The Bay
inn 2006. Hopefully this year's teams will be just as creative.
You now know the legend. Stay tuned for the real story.
Labels: bull shit, competition, grillin on the bay