Dinner at RUB
Another great meet up with the
New York BBQ Lovers Meetup Group
at
RUB
. Great bunch of people. Great fun and fantastic food. If you're looking to learn about NY BBQ, join us.
Owner Andrew Fischel and Pitmaster Scott address the group explaining what we're going to be eating and how it's prepared. It was a great start to the night.
I can't tell you how good this meal was. Andrew, Scott, Matt, Celeste, Molly and all the rest of the staff outdid themselves the other night. You have to get to
RUB
. Trust me.
Let's start with the appetizers..
Frito Pie or WhiteTrash Nachos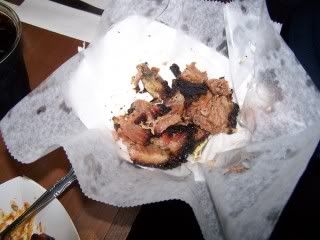 Burnt Ends - By FAR the best in the city
And some chicken wings. A great start to an auspicious meal.
Labels: barbecue, barbeque, bbq, bbq lover's, Meetup Group, new york, restaurant, RUB bbq