Dinner at RUB: We're Done
Let's finish up our dinner at
RUB
. There's "Q"ing to do!
Deep Fried Oreos - nothing like the greasy state fair staple. At RUB they rock.
The recipe for this is available in
Paul Kirk
and
Ardie Davis'
new book;
America's Best BBQ
.
It's right there on page 177!
Next up was Bacon Chocolate Chip cookies. These were interesting and the bacon provides a saltiness to counteract the sweetness of the chocolate, but if I didn't know there was bacon in them I would never have guessed it.
After dinner Celeste gave tours of the kitchen. Here some folks check out the action.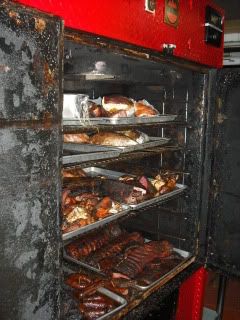 Take a look at the inside of the holding pit. Meat is cooked in one of the 3 other
J&R Pits
and transferred to another J&R Pit for holding before it is sliced and served to the guests. One thing I learned during this tour is that everything at RUB is sliced, pulled or chopped to order. There's no pre-portioned baggies of pulled pork or chicken. That's a lot of chopping!
And I leave you with a picture of
the point, or deckle or the fatty upper muscle of the brisket
. This sumptuous meat will be cubed, re-seasoned and re-smoked to become burnt ends.
Labels: barbecue, barbeque, bbq, bbq lover's, Meetup Group, new york, restaurant, RUB bbq