Dinner at RUB; Part 2
Let's talk about dinner. I think we had everything on the menu except for the duck.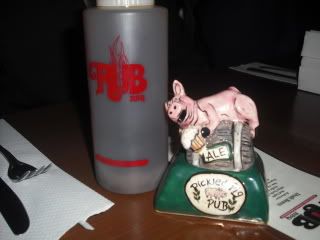 The
Pickled Pig
made the trip with us to visit
RUB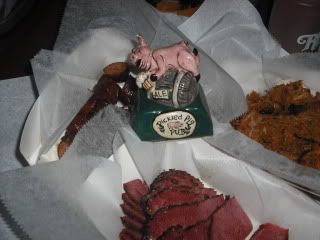 In-house Pastrami, in-house Sausage and Pulled Pork.
The sausage is very similar to
Kreuz
, but better. The pastrami could give
Katz
a run for its money and the pulled pork was simply fantastic.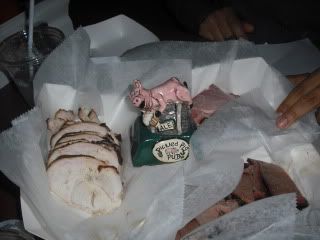 Turkey, Brisket and Ham.

I love ham anytime and this didn't disappoint. The turkey was moist and flavorful and a vast improvement from the last time I had it. It has inspired me. I'm smoking a turkey this weekend. And what can I say about the brisket? As I've said a few times in the blog, brisket is not my favorite meat. A long time friend and former chef once told me that if you don't like something, you've never had it cooked properly. Well, I like brisket now.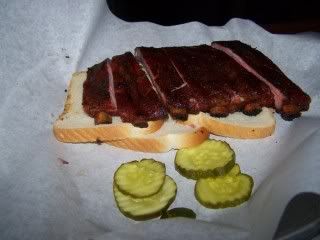 Ribs - Sorry but I don't have any pictures of the chicken.
What can I say about the ribs - perfect as presented. No sauce. Moist, tender and flavorful. As Eric Johnson from
Mr. Bobo's Traveling BBQ All Stars
says,"These ribs would take any competition."
Sides: Collard Greens, Cornbread, Onion Strings fried in lard, Potato Salad and Baked Beans.
The onion strings are fried in lard and totally addictive. Sweet, salty and crispy; how can you go wrong? I didn't get any cornbread, but my wife and a long time friend raved about how it was more cake like than the traditional gritty bread. Celeste, manager and hostess for the evening, told us that she sometimes uses it for French Toast. The potato salad was one of the best I've had in a restaurant. I even liked the collard greens.

I tell you folks, you gotta get to
RUB
soon. Everything was so good.
Labels: barbecue, barbeque, bbq, bbq lover's, Meetup Group, new york, restaurant, RUB bbq