Turduckhen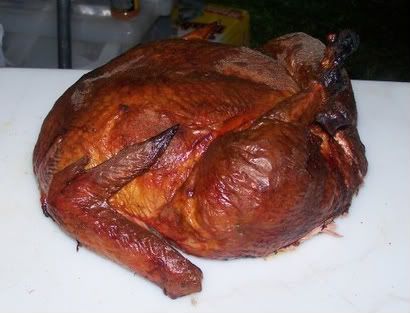 Thanks to Kevin Lincoln founder of the
NY BBQ Lover's Meetup Group
, here are some pictures of the turduckhen we cooked on Saturday into early morning Sunday at the
Hudson Valley Ribfest
.
The Cajun Grocer
supplied us with this magnificent bird or I guess I should say birds since a turduckhen is a semi-boneless turkey stuffed with a de-boned duck stuffed with a de-boned chicken.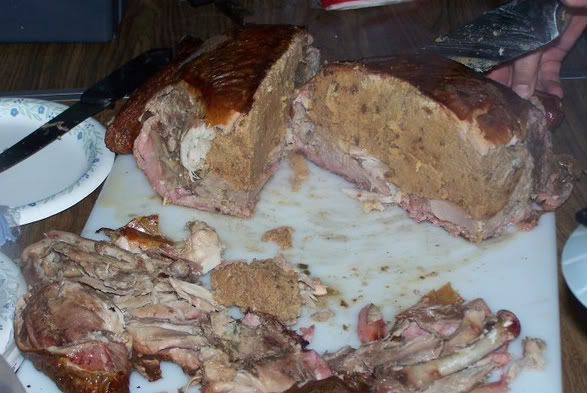 Following the manufacturers and FDA's guidelines I cooked this bird to the recommended 165 degrees which in my opinion is over cooked. I(n the pictures, you can see where the heat overtook the skin in a few places. I should have pulled the bird off the cooker at 155 or so and let it rest until it reached it's proper temps. This bird was cooked over a charcoal and apple wood fire for close to 10 hours.
When I started cooking this bird, its internal temperatures registered a chilly 34 degrees!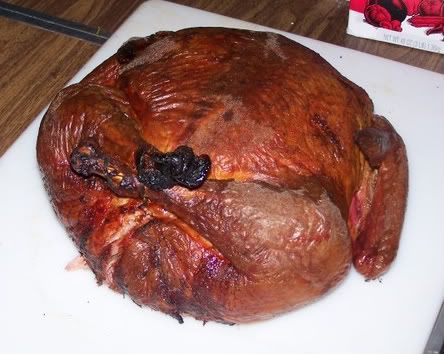 This bird is still delicious, even a bit overcooked. Turkey, duck, chicken and two types of stuffing all meld into one incredible meal.
If you buy one of these birds, and I highly recommend that you do, remember it takes about 5 days to defrost one of these suckers in the refrigerator. Be prepared.
But also be prepared to have a fantastic and memorable meal. Every time I make one of these beasts it becomes the talk of the party.
Buy one. Now.
Labels: cajun, grocer, hudson valley ribfest, tur-duc-hen, turduken