Meet the Team
OK boys and girls. It's time to get down to the brass tacks and talk about the barbecue competition.
First off - the team. I'm real excited to get this team together and finally compete under the
WhiteTrash
banner. I've always wanted to cook with Pete and Kevin is a great new member. All we need is my buddy Mike to join us and
we'll
have the team I've always envisioned.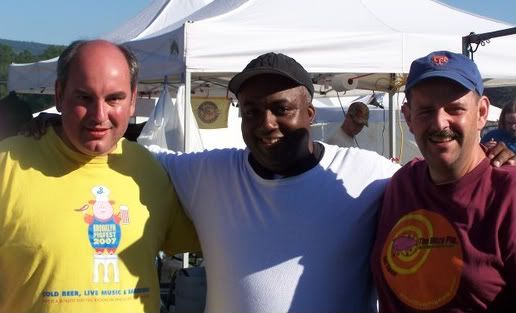 That's me, Kevin Lincoln, the founder of the
NY Barbecue Lover's

Meet Up

Group
, and my old buddy Pete.
This was Kevin's first visit to a barbecue contest and only the second time I've met him. Kevin and Pete had never met before.
Pete and I have known each other for 30 years and we've cooked together in each others backyards but never in a competition type setting. Pete has competed with his own team The Hot Hogs at the Grill Kings and at a couple of
Grillin

' On The Bay
events.
You have to be pretty thick skinned to be part of
WhiteTrash
BBQ. Pete and I have no problem getting in each other's face. If something sucks -- we say so. We don't get into
niceties
or social graces with each other. It all rolls off our backs as easily as it rolls off our
tongues
. That's not to say that we're rude or mean to each other, but we have our ways. Sarcasm rules in
WhiteTrash
world. It may have been a little much for Kevin. I hope we didn't scare him off.
We all had some problems getting to the contest this year. I still don't have a car, so Pete was going to pick me up on Friday afternoon and we'd drive up together. Kevin was going to meet us on Saturday morning.
Pete was supposed to arrive around 1:00pm so on Friday morning, I pull all my equipment, coolers, food,tents and cookers and put them in my driveway so that we can get it loaded into Pete's trailer and get on the road quickly. Now you have to understand, living in Brooklyn my driveway is only about a 10' x 20' piece of cement right off the sidewalk. With all my stuff in the driveway I can't leave it unattended; especially on a Friday afternoon! Friday night is when the trash is picked up and many people are out scouting the trash piles looking for treasure.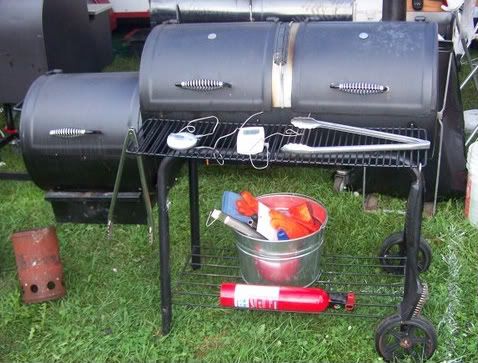 So I'm waiting for Pete. Little did I know that Pete was having his own troubles. First problem -- the trailer. Pete was borrowing the trailer from his local Boy Scout troop and the last people who had employed it left it sitting full of gear from a camping trip. Pete need to unload the trailer before he could take it.
Then he discovered that the trailer's registration had expired. A visit to Motor Vehicles was required. Now there was shopping to do. Pete had previously bought picnic hams, not shoulders and an unscheduled visit to restaurant depot was now top priority. Let's just say Pete was not having a good day.
It's now around 4:00pm and the skies of Brooklyn were getting very dark. I moved most of my equipment back into the garage just before the rain broke. Everything was in the garage except for my double door smoker. The rain wouldn't hurt it, but it sucks loading wet equipment. I'm getting worried since I haven't heard from Pete since about noon and Pete is never late. My back is complaining as well. I make sure that I pack my back brace for this trip.
Finally at 7:30 at night, I hear from Pete. He's had enough and we
decide
to head out to the contest in the morning. It's a good decision as it's still raining hard in Brooklyn and many of the roads are closed due to flooding. We agree to meet at 5:30 Saturday morning. I ask Pete to call me when he leaves his house, just to make sure I'm awake. I am not a morning person.
6:30 am on Saturday, my wife wakes me. About 5 minutes later Pete calls. He's just leaving his house and should be in Brooklyn in an hour. 2 hours later he finally arrives. It takes another hour to load up the trailer. We're finally on the road.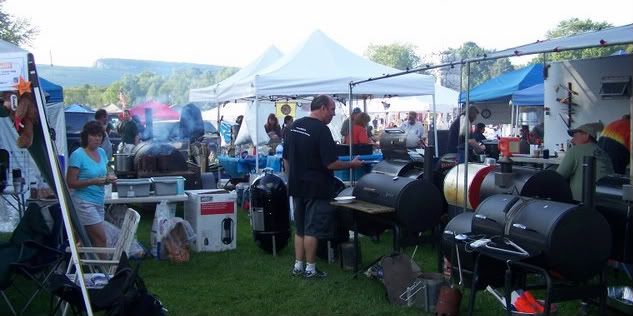 Somewhere in New Jersey, Kevin calls. Shit! With everything going on, I forgot all about him. Is he at the contest looking for us? I feel like crap, I should have sent him an email letting him know what's going on, but I didn't. "Robert, I'm sorry I'm not there yet. I'm having brake troubles and I'm at my local
Meineke
shop." "We're still on the road too," I tell him, "so there's nothing to worry about."
Pete and I get into New
Paltz
just before the event opens to the public. We unload with out any major problems, but discover that one of the pop up tents doesn't have its canopy. We
decide
to use an old tarp on top of the tent. The other tent smells of mildew. It really smells of mildew.
Every time
I go near it, I'm checking my shoes to see if I stepped in something. It's just another wrinkle in what's proving to be not exactly an
auspicious
start.
When we were finally finished setting up I tell you, it was a
WhiteTrash
site. All we needed was a car up on some concrete blocks and an old TV with a hanger for an antenna!
Wow, this is long. I apologize for not getting to the food yet. I just gotta learn to shut up. I'll talk about the food tomorrow. Till then!
Labels: barbecue, barbeque, bbq, competition, hudson valley ribfest