Let Me Take You Down
As predicted, I got taken down at the
Brooklyn Chili Takedown
. The kids ruled the roost, cooked up some outstanding chili and walked away with fabulous prizes.
Matt Timms, Scott Gold and all the other nameless volunteers put together a great time and what I hope what will become a Brooklyn tradition. This year's event was host to 25 very different chilis and included a very odd, in a good and unique way, dessert chili that was cold and filled with chocolates and various fruits.
But for me, it was a lot of fun putting together my take of
Brunswick Stew
using lamb, veal, grass fed beef, yard bird, chorizo, beans and chilies to create a new never before realized, let alone tasted Brunswick Chili!
It's been a long time since I just made something from the top of me head without any true idea of how I wanted it to taste when I'm done. I wanted chili, but what the hell is chili now days?
I took some
Le Cense
grass fed
beef for kabobs
and rubbed them with a ancho chili based rub and smoked them over apple wood. I took a yard bird and left it naked and threw that into the smoker too.
Next came a lamb shank that was rubbed with a version of the rub that the
Hampton Smoker
and I created for the legendary
Baron of BBQ, Paul Kirk
. And then, just cause I had it in the freezer, a veal shank. Now that veal wasn't a second class citizen, but it only received a sprinkling of kosher salt and freshly ground pepper. All the meats spent some time in the smoke, some over apple, some over hickory.
I took some
Goya hot chorizo
and diced it up. I sweated the chorizo meat to get some really nice grease and removed the meat from the pot. To the hot spicy Mexican grease I added some onion, bell pepper, celery and garlic and sweated those bad boys.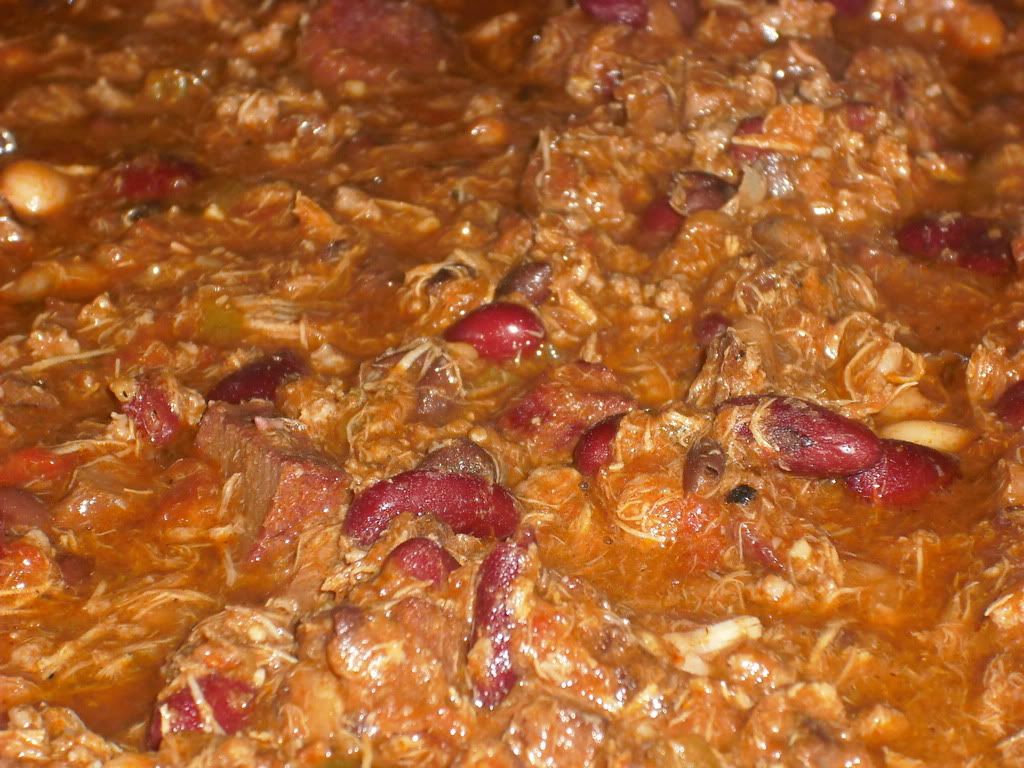 I deglazed the pot with some vinegar, added a mix of chili peppers, chicken broth, water, tomatoes (fresh from the garden and canned) and a bunch of spices and various hot sauces. I can't give you a run down on this cause I was pulling stuff from the pantry shelves, sniffing it and adding it to the pot if it smelt right. There was no recipe here friends. Whatever fell out of the cabinet and into my hand wound up in the pot. I love cooking this way.
I sliced up the cubes of beef, shredded the chicken, chorizo, veal and lamb and added it all into the now very crowded largest pot I own. Brunswick stew usually includes corn and Lima beans, but since this was a chili interpretation, they were put aside in favor of red kidney beans, northern white beans and black beans which went into the pot long after the meats.
As everything cooked, the meats and vegetables were beginning to all meld into each other becoming unrecognizable in and of themselves. That's what I would be looking for as in a traditional Brunswick stew, all ingredients become one. But this is a chili, that's not completely what I want. With only about 2 hours to go I decided to add another 1 1/2 lbs of ground meat to the pot. I seasoned this meat and browned it off in butter and olive oil in a cast iron frying pan and added it to the chili.
After about an hour, some last minute seasoning adjustments and liquid additions it was time to get on the train and head to ultra hip Williamsburg with my creation. I really liked this chili. It had some great mouth feel and even with all the ingredients in the pot you could still taste the beef, lamb and chicken. You could even taste the beans. And the after burn was fantastic; not too hot but definitely hot enough. On the train, I thought I might actually have a chance.
Walking into the contest area, I realized something; I'm an old fuck. My cooler, Oscar that transported and stored the chili, which I bought when I was in high school, was older than most of the people in the room. I had the
originals
of many of the shirts that were being worn by the hipsters. Hell, I even shave!
At the end of the evening, Matt called all the judges and contestants on stage as he announced the winners. Sorry folks, I don't remember your names, but we all got to explain what we cooked and why.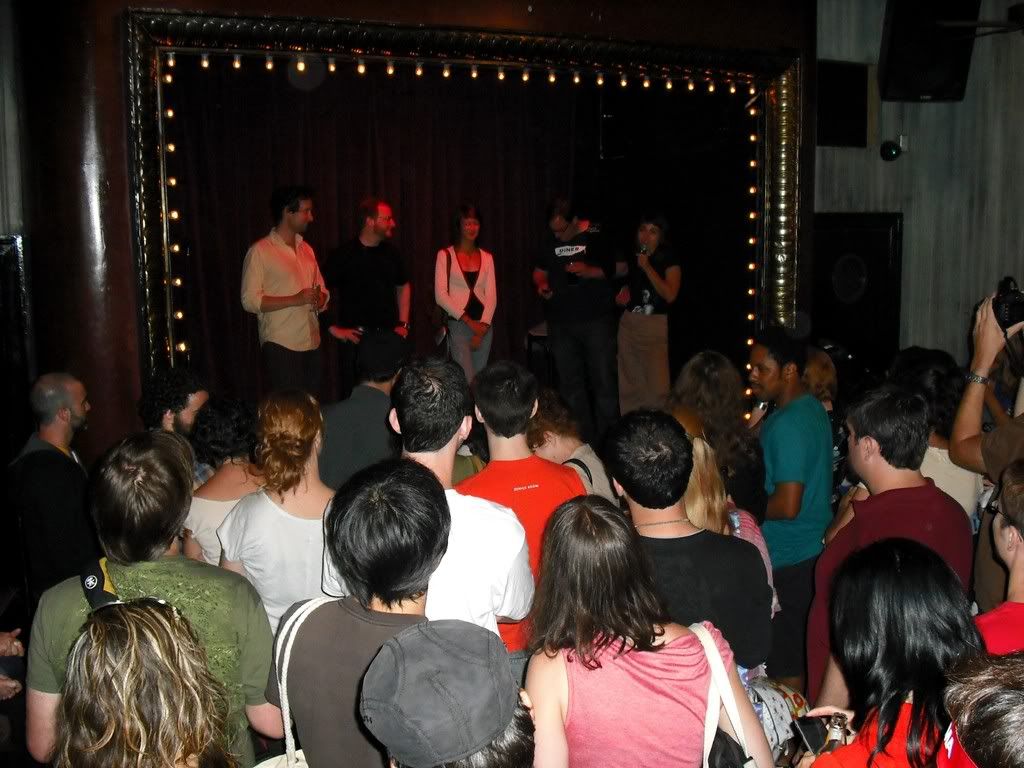 It was a great rush when I got my chance to introduce my Brunswick Chili to the audience and they cheered. I don't know where I placed in the rankings, but judging from the audience response I had to be in the top. At least that's how my ancient ears heard it. That and there wasn't any of my chili left in the pan.
There were a lot of sweet chilis at this event, but the winner was a traditional Texas Red, a secret family recipe that the chef reconstructed and improved for the NY crowd. I have to say was much better than my reconstruction and improvement for the NY crowd. From what I remember, that Texas Red deserved to win.
As I and all the chefs were making our way off the stage a couple of people grabbed me and told me that they really enjoyed my chili and thought it was fantastic. That's all I needed to hear. I'm a very happy old fuck.
Labels: brooklyn, chili, competition