Barbeque - The Meats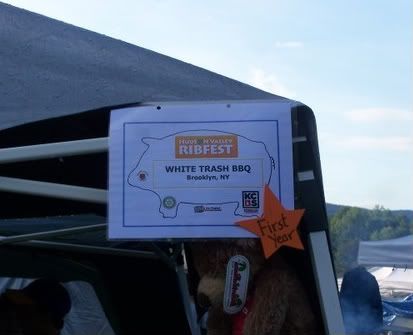 I've certainly given you a lot to read about the
Hudson Valley

Ribfest
, but I still haven't gotten to the meat of the topic - the meat! Well here goes. I'll address the chicken and ribs today. The pork shoulder and brisket will be covered tomorrow or Monday. I don't want to overload you with everything.
I know that there's another post coming about my thoughts about cooking under my own banner for the first time and I might write it tonight, but it won't be up for a few more days. I've teased you all long enough. Tonight we talk about meat.
First up - the results...
WhiteTrash
BBQ came in 32
nd
out of 53 teams. Not bad, not great and certainly encouraging enough to want us to compete more. I think we'll be back in October.
Our final score was 579.4280 out of a possible 720.
iQue
took top place with a score of 646.8570, so you see we have a long long way to go. Congratulations to the
iQue
team for another well deserved win. If you want to read more about them, check out this very interesting
interview
with
Pitmaster
Chris

Har
t over on
PigTrip
.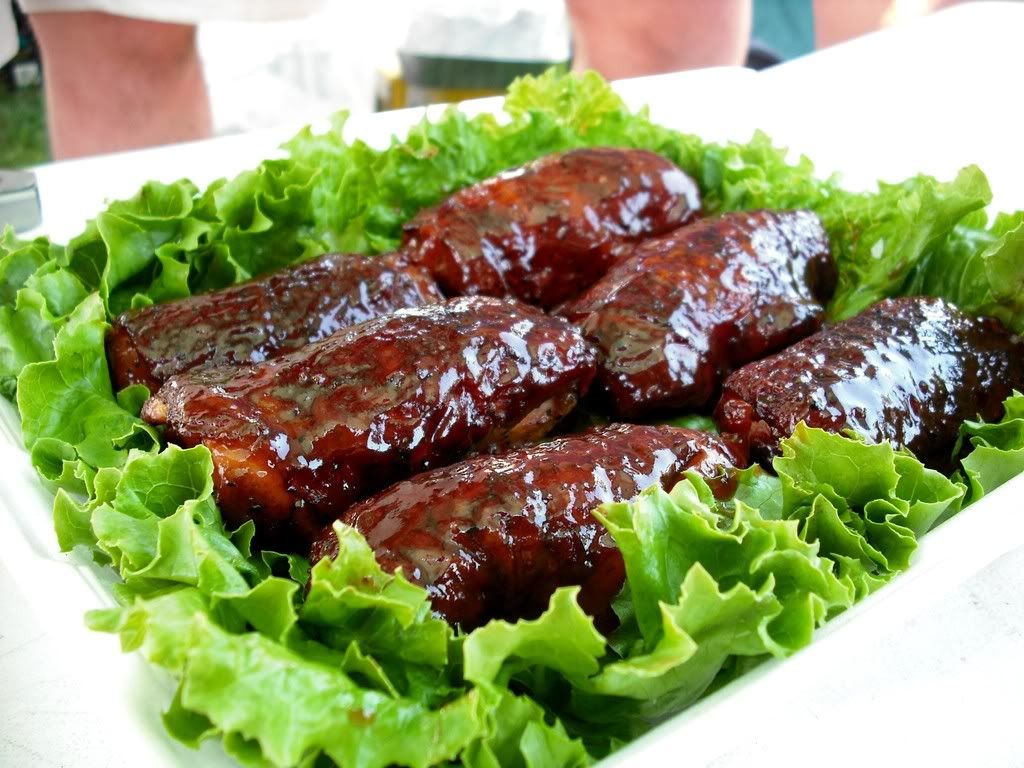 But back to me. First category to be judged is chicken. We cooked 24 chicken thighs for this event. Why thighs you may ask? Well thighs have a good amount of fat and are probably the most forgiving part of the chicken to cook on a smoker. Most teams in the North East cook thighs. We
brined
the thighs, marinated them, rubbed them with a rub I can't remember and cooked them over an apple wood, hickory and charcoal fire.
Pete did a superb job of trimming the thighs. I was surprised to see how much he knew about trimming chicken thighs. It seems that Pete was schooled by one of the best cooks on the circuit, Steve
Farrin
of
I Smell Smoke
on how to trim thighs for competition. I bet Steve doesn't even know that he taught Pete. But he did and Pete created some beautiful little footballs for us to cook. That Pete is a clever little monkey.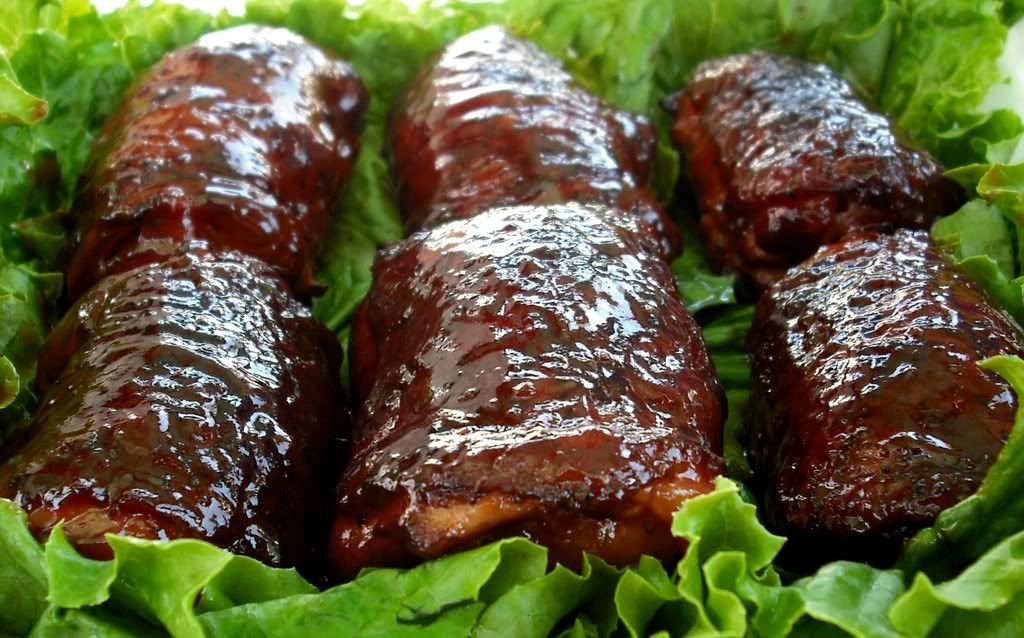 We pulled the chicken from the cooker and painted them with a doctored up version of Sweet Baby Ray's sauce and then we firmed it up on the fire. We selected the best looking six, arranged them as best we could in our lettuce only presentation box and handed them off to our runner, the ever lovely Mrs. Pete, Jean.
How'd
they do? Here's each of the six judge's scores; the first number is for appearance, then taste and finally tenderness.
755, 888, 766, 877, 988, 956 (In case you haven't been reading previous posts, and shame on you if you haven't, scores run from 2 to 9 in
KCBS
contests.)
Wow - 2 perfect scores on appearance. I didn't see that coming. I didn't think they looked that good in the box and
Matt Fisher
of
Wildwood

BBQ
said that they were too dark. The thighs were also on the small side. We could have easily fit another three in the box.
As for the taste, well they were pretty tasty to me but they were definitely over cooked. They weren't dry per say, but they were reaching that point of mealy mouth feel. If they cooked much longer they would have been garbage. If I was judging this chicken, my scores probably would have been closest to judge 3. Maybe even a little lower.
Total points: 140.5714 which gave us 41st place. Sexy Gino's Bare Ass BBQ, the first place team's points were: 169.1430
Next up were ribs. We did spare ribs which I trimmed down to the famous
St. Louis cut
. I also removed the membrane from the ribs, but I've never had so much trouble getting it off the meat. Out of the six racks of ribs I trimmed, the membrane only came off on the first shot on one rack. Each time I tried to get it off and pulled the membrane shredded. If I was at home, they would have cooked with the damn membrane on them!
We slathered these ribs with a little bit of cheap mustard and rubbed them with
Blues Hog
. We cooked them over a fire of hickory and cherry wood and finished them with a traditional but not mainstream sauce. I've made them this way at home and the neighbors said they were the best ribs they've ever had. Not so in New
Paltz
.
Unfortunately, our ribs were undercooked and a bit tough. They needed a little more time on the cooker, but time ran out for us. I thought that the ribs tasted pretty good, but the rest of the team and some visitors to the tent thought they were too spicy. I liked them, first you tasted sweet, then smoke, followed by meat and then a bit of heat. I thought the flavor was spot on and the heat just right.
What did the judges think?
677, 887, 777, 757, 666, 878
Total points: 140.0000 which gave us 40
th
place. Casual Smokers; the first place team's points were: 170.8572
Poor scores in every category. We need to rethink that category completely before we compete again. Sorry, we didn't get any pictures of the ribs.
This brings us to the middle of the contest and is a good place to wrap up for tonight. Tomorrow we'll talk about pork and brisket. Ya all come back now, ya hear?
Labels: barbecue, barbeque, bbq, competition, hudson valley ribfest, kcbs, nebs